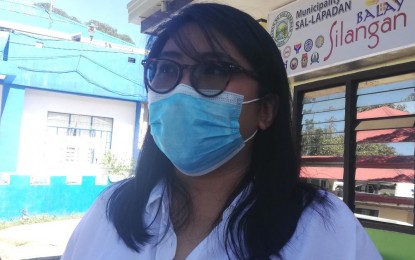 SALLAPADAN, Abra – For medical students, the common path to achieving their greatest dream is to finish their studies, pass the board examination and work at a hospital.
For Dr. Karina Viola Bulong, being a "doctor to the barrio" (DTTB) which means working in rural areas is a life-changing opportunity, despite being far from the ideal hospital work setting.
"I recommend it kasi like I said, bagong experience, hindi hospital-centric na way of life for doctors. I recommend din going into the program kasi aside from ma-a-assign ka sa rural or disadvantaged areas, meron din silang ino-offer na masters program, kasama yung sa package, for enrichment saka makakatulong din siya para magawa nila ng maayos ang trabaho (I recommend it because it is a new experience which is not a hospital-centric way of life for doctors being in a rural and disadvantaged area. The contract package also includes a master's degree program that will further improve the doctors' work)," she said in a recent interview.
Bulong heads the Rural Health Unit (RHU) of the whole town, serving a population of 6,389 based on the 2020 survey of the population conducted by the Philippine Statistics Authority.
Her statement came after some 3,826 out of 5,958 medical students became the country's newest doctors after passing the Physician Licensure Examination, based on results released by the Professional Regulation Commission (PRC) on Nov. 9.
She said being in a barrio is a test of resourcefulness for a doctor whose goal is to save lives amid minimal or no resources at all.
"Kailangan maging resourceful saka lakasan ang loob. Kapag nasa hospital ka kasi kumpleto ka ng gamit, pag nandito ka sa community, hindi siya kasing kumpleto, kailangan mo to make do with what you have (you need to be resourceful and determined to save a life which unlike in the hospital, you do not have the complete resources you need to do your job. You have to make do with what you have)," said Bulong, who is now a physician for three years and has spent two years and six months in the DTTB program.
She said that a doctor to the barrio's goal is to serve the underserved which gives them an experience of what real life is by the people in the barrio.
"I think that is the perspective that the DTTB program is offering to the takers and to those who are in the program. Ang daling sabihin na bakit ngayon ka lang nagpa check-up or bakit hihintayin mong lumala bago ka nagpacheck-up pero kapag dito mo tiningnan, maintindihan mo bakit ngayon lang siya nagpa-check up, kasi wala nga siyang pera na going alone to the capital is not easy because of logistics na kailangan. You have to understand that it is not that they give less priority to health but because they are more for survival, providing food on the table (it is easy to say why have a checkup only now and why did you wait that long for your condition to worsen then you'll understand why it took so long to seek medical attention. You need to consider the logistics needed to go to the capital and it is not a choice to make health a priority because survival and providing food on the table is a primary concern)."
She added that in the barrio, several factors contribute to the health of the community that is not taught in medical school but learned through exposure to the people, especially those in far-flung areas.
While the life of a doctor in the barrio is challenging, Bulong said it is a fulfilling mission, especially when she is able to save a patient's life.
"The DTTB experience is difficult to encapsulate but in a resource-limited setting, ang fulfillment ay kapag may napapagaling akong pasyente na akala ko hindi ko maitatawid (fulfillment comes when you can make a patient heal which you thought will end his life) when there are new supplies and equipment like this ambulance when the facilities are improved," she added.
Bulong said that at the height of the coronavirus disease pandemic, lowering the cases of infection and resolving the surge was fulfilling for a barrio doctor, considering that she was the only doctor in the whole town.
She added that her life is simple and finds much joy in having a new ambulance for the use of the patients, when the facilities are improved, and when officials make health their priority.
Bulong said that her contract in the DTTB is ending in a few months and that she will return with more skills and capacity to serve the less privileged barrio folks.
"I'm planning to go because I realized that although I acquired skills as a general practitioner and from medical school, it is not enough. I will have my residency to further improve my knowledge and better serve the public with more competence and higher quality of service for the people," the doctor said. (PNA)