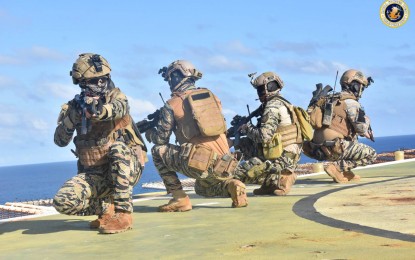 MANILA – Western Command (Wescom) task forces have successfully conducted another series of "gas-oil platform takedown" (GOPLAT) exercises that aim to assess the capabilities of these units in protecting the vital Malampaya Natural Gas to Power Project (MNGPP) platform.
Involved in the GOPLAT exercises are the Joint Task Force West (JTFW) and Joint Task Force Malampaya (JTFM), the Naval Forces West said in a statement Wednesday night.
The drills took place on December 4 to 5, it added.
"Wescom, through JTFW and JTFM, carried out the fourth iteration of the GOPLAT exercise 2022 from December 4-5, 2022. The exercise aims to assess the operational readiness and preparedness of JTFW and JTFM in securing the MNGPP platform in cases of emergencies that may arise," it added.
During the exercise, activities such as vertical insertion, non-compliant visits, board, search, and seizure were conducted.
The units and assets that participated in the exercise included two multi-purpose attack craft, BA-483 and BA-484, special operation teams, an unmanned aerial system (UAS), a Navy AW-109 "Power", and an Air Force W-3A "Sokol" helicopter.
"This year's iteration of the GOPLAT exercise was highlighted with the use of high-angle sniping on an AW-109 Navy helicopter and the use of UAS for intelligence, surveillance, and reconnaissance," it added.
Naval Forces West deputy commander for fleet operations Capt. Brendo J. Casaclang, who is also co-director of the exercise, said participating units showcased their capabilities to respond in times of emergencies and acts of terrorism in the MNGPP.
JTFM deputy commander Capt. Arnel F. Teodoro said the exercise aims to enhance the command and control, collaboration, and readiness of the Armed Forces of the Philippines units and other stakeholders during emergencies in the asset.
"The Malampaya Project is one of the country's economic crown jewels that provides more or less ten-hour of electricity to mainland Luzon, particularly in the National Capital Region. It is imperative that coordinated and unified protection of the project is guaranteed and available on time," he added.
Meanwhile, JTFM commander Marine Brig. Gen. Robert I. Velasco said only the Navy "has the capability to recover and take down the MNGPP in case of emergencies, attacks, and intrusions." (PNA)