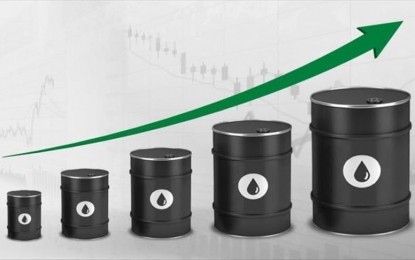 ANKARA – Oil prices rose on Wednesday due to an uptick in demand after statistics revealed that US crude stockpiles fell more than anticipated.
International benchmark Brent crude traded at USD80.32 per barrel as of 09.46 a.m. local time (0646GMT), up 0.41 percent from the closing price of USD79.99 a barrel in the previous trading session.
American benchmark West Texas Intermediate (WTI) traded at USD76.44 per barrel at the same time, a 0.27 percent gain after the previous session closed at USD76.23 a barrel.
Late Tuesday, the American Petroleum Institute (API) announced its estimate of a 3.06 million barrels decrease in US crude oil inventories relative to the market expectation of a 167,000 barrels draw.
A strong decrease in inventory implies a rise in crude demand in the US, assuaging market concerns over falling demand.
In China, the second-largest oil consumer in the world, a recent rise in the number of coronavirus cases created concerns about the nation's economic recovery, limiting price increases despite easing pandemic restrictions.
The World Bank on Tuesday cut China's growth forecast both for 2022 and 2023, as "recurrent Covid-19 outbreaks, the possibility of renewed mobility restrictions and precautionary behavior to slow the spread of the virus could lead to longer-than-expected disruption in economic activity."
The Chinese economy is projected to grow 2.7 percent this year, according to the bank's December economic update. The previous 2022 forecast was for 2.8 percent growth.
Growth is expected to recover to 4.3 percent next year amid a reopening of the economy, revised down from 4.5 percent in the bank's previous report.
Supporting price upticks, the US Energy Department on Friday announced it would repurchase oil to replenish the country's Strategic Petroleum Reserve (SPR) following a 180-million-barrel release over several months to combat rising energy prices.
The government said bidding to lock in prices for February delivery will start on Jan. 13. (Anadolu)