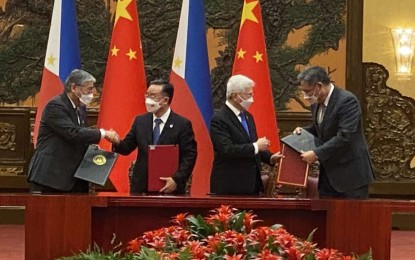 MANILA – The Department of Trade and Industry (DTI) said Thursday the Philippines and China signed a memorandum of understanding (MOU) on electronic commerce to strengthen cooperation in this sector.
During the state visit of President Ferdinand R. Marcos Jr. to China this week, DTI Secretary Alfredo Pascual and Chinese Minister of Commerce Wang Wentao signed the MOU on E-Commerce on Wednesday.
Under the MOU, the two countries vowed to promote trade of high-quality featured products and services; pursue business exchange between micro, small and medium enterprises (MSMEs) and e-commerce platforms, startups and logistics service providers; and to share best practices and innovative experiences in utilizing e-commerce.
"This agreement will facilitate the sharing of experiences, best practices, critical information and policies related to trade and e-commerce. We look forward to interventions that will promote consumer and merchant protection, intellectual property, data security and privacy laws. This MOU will be beneficial in building the capacity of our local businesses to cope with the modernizing business sector," Pascual said.
He added the MOU is also aligned with the agenda of the E-Commerce Philippine 2022 Roadmap, which aims to strengthen cross-border cooperation and market access through trade agreements and cooperation programs with major e-commerce trading partners.
The MOU will also push for capacity building programs to improve MSMEs' knowledge and skills to maximize their potential in e-commerce.
Through the MOU, the Working Group on Electronic Commerce between Manila and Beijing will be established as a focal point of coordination for the two parties. (PNA)