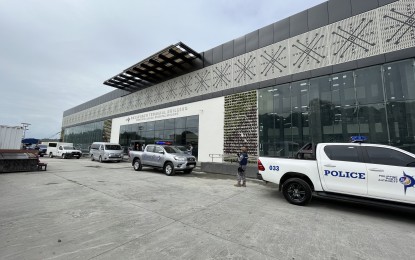 MANILA – The country's largest port passenger terminal building (PTB) at the Port of Calapan in Oriental Mindoro province is scheduled to open its doors to the public by March.
During a surprise inspection of the construction Port of Calapan on Tuesday, Philippine Ports Authority (PPA) General Manager Jay Santiago said the PTB is currently 98 percent complete with a target completion date set on Feb. 18.
"The assessment of the Port Management Office of Mindoro (Mindoro PMO) revealed that the completion rate of our PTB is 17 percent ahead of its target schedule and we are set to inaugurate it in March this year," Santiago said.
The construction of the PTB cost PHP353 million and is designed to accommodate up to 3,500 passengers at any given time.
It is equipped with several facilities meant to improve the experience of passengers such as a children's playroom, clinic, a modern elevator and escalator, a prayer room and a breastfeeding station.
PPA Mindoro PMO Port Manager Elvis Medalla said passengers' welfare was among the primary consideration in the construction of the new PTB.
"This is really for the passengers of Calapan Port, it is apt that we give the pubic quality service and world-class facilities that they can use while waiting for their trips," Medalla said.
The Port of Calapan is one of the country's busiest passenger ports and recently came under fire after social media posts showed long lines of passengers on Jan. 3.
In response, Santiago noted that the long lines of passengers during the holiday season were caused by a lack of ships—with only about 22 trips at the Port of Calapan made available on Jan. 1, 2 and 3, compared to an average of 55 daily trips at the port before the holidays.
With PPA having no direct jurisdiction over commercial ship operators, he brought the lack of ships to the attention of the Department of Transportation (DOTr), the Maritime Industry Authority (MARINA), and the Philippine Coast Guard (PCG). (PNA)