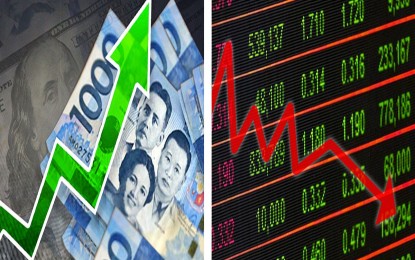 MANILA – The main equities index tracked the decline of most of its United States (US) counterparts but the peso gained to its lowest in over six months.

The Philippine Stock Exchange index (PSEi) shed 0.49 percent, or 33.55 points, to 6,756.69 points.

All Shares followed with a drop of 0.27 percent, or 9.74 points, to 3,559.23 points.

Most of the sectoral gauges also ended the day on the red, namely Industrial, 1.16 percent; Property, 1.13 percent; Financials, 1.09 percent; Mining and Oil, 0.75 percent; and Holding Firms, 0.08 percent.

Only the Services index gained during the day and rose by 0.78 percent.

Volume reached 2.51 billion shares amounting to PHP20.64 billion.

Decliners led advancers at 101 to 86 while 51 shares were unchanged.

Luis Limlingan, Regina Capital Development Corporation (RCDC) head of sales, attributed the PSEi's performance partly to the 0.3 percent decline of the Dow Jones Industrial Average (DJIA) and the 0.1 percent decrease of S&P500 on Monday.
Limlingan said only the Nasdaq gained after the first trading day of the week, with a jump of 0.6 percent.

"Investors took comfort in the possibility that the Federal Reserve can slow the economy and bring down inflation without tipping the economy into a recession, and assumed a risk-on stance," he said.

Meanwhile, oil prices rose in the global market "following China's move to reopen its borders (that) boosted the fuel demand outlooking, eclipsing global recession concerns."

Brent crude oil prices rose by 1.37 percent to USD79.65 per barrel and West Texas Intermediate (WTI) by 1.17 percent to USD74.63 per barrel.
On the other hand, the local currency ended the day at 54.87 to a US dollar, a big improvement from its 55.11 close a day ago.

Its strength showed early on after it started the trade at 54.95 from the previous session's 55.3 opening.

It traded between 54.95 and 54.8, resulting in an average of 54.858.

However, volume declined to USD1.07 billion from day-ago's USD1.22 billion.

Rizal Commercial Banking Corporation (RCBC) chief economist Michael Ricafort said the peso ended Tuesday's trade to its lowest in more than six months or since closing at 54.77 on June 28, 2022.

He attributed the peso's gains to the weakening of the US dollar, the four-month high gross international reserves (GIR) of the country in December 2022 at USD96 billion, expectations for further deceleration of US inflation rate for January 2023 and the narrowing trade deficit of the country, among others.

"As a result, the benchmark 10-year US Treasury yield neared three-week lows at 3.55 percent, 0.79 percent below the 15-year high of 4.34 percent posted on October 21, 2022, thereby could reduce the attractiveness/allure of the US currency," he said.

Ricafort said market sentiments were also boosted by China's reopening, which along with the US dollar depreciation, "lured investors back to the region."

For Wednesday, the local currency is expected to trade between 54.75 to 55 against the greenback. (PNA)