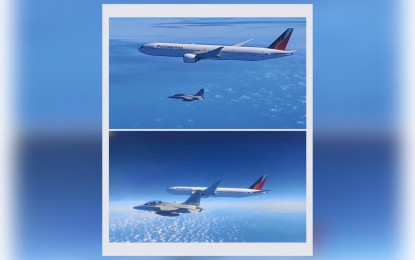 MANILA – Two South Korean-made FA-50PH jet fighters from the 5th Fighter Wing provided air escort for President Ferdinand R. Marcos Jr.'s flight headed to Davos, Switzerland for the World Economic Forum.
The two FA-50PHs escorted the presidential flight until it was out of the country's territory last Jan. 15.
The Philippine Air Force (PAF) said the "flight was jibed with maritime patrol over our territorial waters and EEZ (exclusive economic zone)."
"The PAF once again performed one of its mandated tasks—air escort for PFRM's flight to Switzerland on 15 January 2023. The escort is usually composed of at least two fighter aircraft that intercepts the presidential flight while leaving or returning to the country," the PAF's 5th Fighter Wing said in a Facebook post Monday night.
It added that the use of escort fighters started in World War II when fighter aircraft were sent to fly with bombers to protect them from enemy air attacks.
This came as hundreds of bomber planes and thousands of lives were lost during World War II by flying unescorted missions over enemy territory where they were attacked by hostile fighters.
"Today, sending fighters to escort presidential flights applies the same security principle. As members of the presidential security protect the head of state in a convoy when traveling by land, so does the PAF by air," the 5th Fighter Wing added.
It added that presidential planes are not usually capable of defending themselves from threats.
"The mission of escorting the presidential plane with fighter jets is not only to provide a layer of defense against any potential threat and to counter enemy attacks directed to the head of state in flight, but is also to give due honor to the President," it added. (PNA)