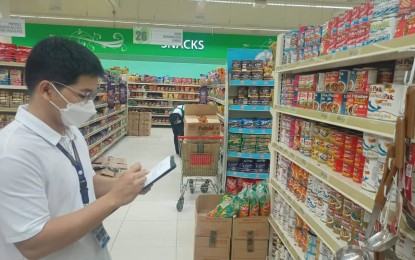 MANILA – The Department of Trade and Industry (DTI) on Wednesday reminded business establishments and consumers in areas declared under state of calamity to observe price freeze.
The DTI listed that at least 22 barangays, 16 municipalities, four cities and three provinces in six regions nationwide were declared under state of calamity due to severe flooding amid the effects of northeast monsoon, shear line and low-pressure area.
These areas are in regions Mimaropa, Eastern Visayas, Zamboanga Peninsula, Northern Mindanao, Davao and Caraga.
All basic goods are placed under price freeze for 60 days, while prices of household liquefied petroleum gas (LPG) and kerosene shall be frozen for 15 days under the Price Act.
Included in the basic commodities are canned fish, locally manufactured instant noodles, bottled water, bread, processed milk, coffee, candles, laundry soap, detergent and salt.
DTI Undersecretary for Consumer Protection Group Ruth Castelo said the agency is closely monitoring the prices and supplies of goods in the state of calamity areas.
"Aside from basic necessities, our regional and provincial offices' monitoring teams also check for the price and supply of other commodities. We urge manufacturers to ensure adequate supply in these areas," Castelo said.
The DTI urged consumers to report retailers, distributors and manufacturers that sell basic goods above their prevailing prices by calling 1-DTI (1-384) or sending an email to
[email protected]
.
Under the Price Act, violators will face a penalty of imprisonment for a period of one to 10 years, or a fine ranging from PHP5,000 to PHP1 million or both, at the discretion of the court. (PNA)