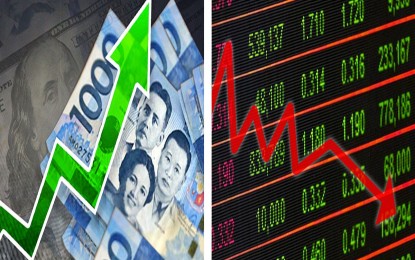 MANILA – The local stock barometer ended Thursday down as investors monitored corporate earnings reports of listed firms both here and in the United States while the peso gained against the US dollar.
The Philippine Stock Exchange index (PSEi) shed 0.55 percent, or 38.66 points, to 7,042.70 points.
All other indices also finished the day in the negative territory, with All Shares down by 0.27 percent, or 9.87 points, to 3,692.89 points.
Services posted the biggest drop among the sectoral indices with a decline of 1.64 percent.
It was trailed by Mining and Oil, 0.69 percent; Industrial, 0.62 percent; Holding Firms, 0.29 percent; Financials, 0.26 percent; and Property, 0.13 percent.
Volume reached 1.34 billion shares amounting to PHP5.11 billion.
Advancers led decliners at 107 to 99 while 49 shares were unchanged.
"Investors parsed through the latest batch of US corporate earnings that led to some market weakness globally and locally," said Luis Limlingan, Regina Capital Development Corporation (RCBC) head of sales.
Limlingan said the government's report about the 7.2 percent growth of the economy, as measured by gross domestic product (GDP), in the last quarter of 2022 is better than median estimates.
"The Philippines' prospects as being among the best performers in Asia prompts most GDP forecasts past seven percent," he said.
For the full year of 2022, the domestic economy grew by 7.6 percent, higher than the 6.5 to 7.5 percent assumption of the government.
Meanwhile, oil prices were almost flat in the international market "after government data showed a smaller-than-anticipated build in US crude inventories, countering weak economic data from Tuesday."
Limlingan said Brent crude oil price slid by a cent to USD86.12 per barrel and the West Texas Intermediate (WTI) by 2 cents to USD80.15 per barrel.
The local currency gained against the US dollar after it finished the day at 54.4 from Wednesday's 54.63 close.
It opened the day at 54.5, better than its 54.75 start in the previous session.
It traded between 54.58 and 54.39, resulting in an average of 54.482.
Volume declined to USD730 million from day-ago's USD1.02 billion. (PNA)