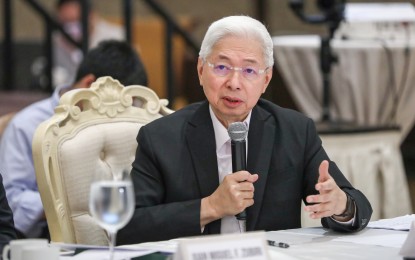 MANILA – The country's major investment promotion agencies (IPAs), the Board of Investments (BOI) and the Philippine Economic Zone Authority (PEZA) have welcomed the issuance of the Executive Order (EO) No. 18 or the creation of green lanes for strategic investments.
In a statement Monday, Department of Trade and Industry (DTI) Secretary and BOI chairperson Alfredo Pascual said the green lanes for strategic investments will facilitate ease of doing business and will increase the country's attractiveness as an investment destination.
"This EO complements our efforts to facilitate a robust economic recovery and expansion. It promotes ease of doing business as national government agencies including its regional and provincial offices, as well as local government units are now mandated to create green lanes that will fast-track the process of securing necessary licenses and permits for strategic investments," he said.
It was Pascual and the DTI-BOI that recommended the creation of green lanes to President Ferdinand R. Marcos Jr. last October that will help the administration to realize the investment pledges from the Chief Executive's foreign trips.
"It was during the meeting that we communicated to the President that several investors are interested to expand operations in the Philippines. Most of them have emphasized the importance of advancing ease of doing business after we have identified barriers across multiple regulatory agencies that hamper the smooth entry of FDIs (foreign direct investments) in the country," he added.
The new EO will provide ease of doing business for highly desirable projects, FDIs and activities under the Strategic Investment Priority Plan (SIPP).
EO 18 covers all national government agencies, government-owned or -controlled corporations and local government units involved in the issuance of business permits, licenses, certifications and/or authorizations.
For his part, PEZA officer-in-charge Tereso Panga said in a Facebook post that the EO 18 signals a whole-of-government approach in improving and accelerating the issuance of permits and licenses needed in putting up businesses in the country.
"PEZA welcomes the issuance of Executive Order 18 for its 'whole-of-government approach' in easing the conversion of investment pledges to actualize on the ground presence of foreign investors' companies and facilities," Panga said.
He added PEZA commits to share its best practices and knowledge in providing smooth services to investors as the agency implements one-stop shop for securing permits and licenses.
PEZA has been recognized by International Finance Corporation (IFC)-World Bank, United States' Department of State, and the Association of Southeast Asian Nations (ASEAN) Investment Report for its one-stop-shop facility, investment promotion and facilitation measures for its economic zone locators.
"The best practices and ease of doing business climate it has set in place has been a model for other countries to follow. It is high time that we recognize that to stay competitive, taking the cue from PBBM's national policy to address the pain points of investors by setting up green lanes for strategic investments," Panga added.
According to Malacañang, the recent foreign trips of Marcos secured some PHP3.4 trillion in investment pledges.
Malacañang added over the weekend that some PHP239 billion worth of projects are already in the implementation stage, while around PHP1.5 trillion are currently in the planning stage. (PNA)