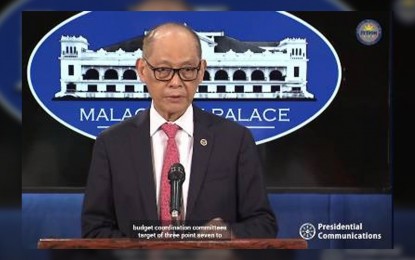 MANILA – The cash aid program and several fiscal measures are set for implementation to help address inflation rate in the country, Finance Secretary Benjamin Diokno said Tuesday.
In a briefing in Malacanang, Diokno, who attended a sectoral meeting with President Ferdinand R. Marcos Jr. earlier in the day, said one of the measures proposed to alleviate the impact of inflation is the distribution of PHP500 monthly cash aid for two months, amounting to about PHP26.6 billion, to about 9.3 million households across the country.
He said an improvement in tax collections would allow the government to have the needed funds for this program, which will be implemented in the coming days.
Among the beneficiaries of the cash aid are farmers, fisherfolk, and those in the transport sector, he added.
Another measure to cushion the impact of inflation presented before the President is addressing the agriculture sector's supply chain needs, such as post-harvest facilities, warehousing, distribution, and transportation.
Diokno said authorities would determine if there is a shortage of supplies and this measure will provide them the time to allow the importation of necessary items.
He said processes for importation, among others, will be streamlined and/or digitalized to fast-track the process and prevent supply issues.
Diokno also disclosed the formation of the Inter-agency Committee on Inflation and Market Outlook, which was tasked to study and come out with a scientific way of forecasting supply and production of food, among others, to prevent supply-side problems in the future.
The committee is composed of representatives of the Department of Finance (DOF), Department of Budget and Management (DBM), National Economic and Development Authority (NEDA), Department of Agriculture (DA), Department of Science and Technology (DOST), and Department of the Interior and Local Government (DILG).
Diokno said the committee is a permanent one and is tasked to report to the President every month to help in decision making, such as on importation to boost supplies.
He said an economic development group, to be composed of the DOF, DBM, NEDA, Department of Trade and Industry (DTI), DA, Department of Public Works and Highways (DPWH), and the Presidential Management Staff (PMS) will also be formed to fast-track the implementation of measures eyed to address economic issues in the country.
Several legislative measures were also proposed to be prioritized, among them the New Agrarian Emancipation Act, which is targeted as a condonation program for agrarian reform beneficiaries with an estimated debt of PHP58 billion.
"This will allow farmers to focus now on their efforts to increase production rather than, iniisip pa nila paano ko babayaran itong lupa na ito (them thinking of ways to pay their properties)," he added.
Diokno said they are also supporting the National Land Use Act, which is targeted to properly identify land for the specific use, such as for agriculture and fisheries, settlement development, and infrastructure.
He said these short- and long-term measures aim to dampen inflation rate, which registered a slower year-on-year rate of 8.6 percent in February compared to January's 14-year high of 8.7 percent.
Diokno said authorities forecast inflation to return to within the government's 2 percent to 4 percent target band by October this year, noting that February's inflation rate is near the lower end of the Bangko Sentral ng Pilipinas' 8.5 percent to 9.3 percent forecast for the month.
He said food items continue to drive inflation rate given the upticks in the prices of vegetables, meat, sugar, and fish, hence the need to address challenges of the agriculture sector.
Diokno said the central bank continues to help address inflation rate and has increased its key rates by a total of 450 basis points since May 2022 after cutting this to a record-low 2 percent for the overnight reverse repurchase (RRP) rate in 2020. (PNA)