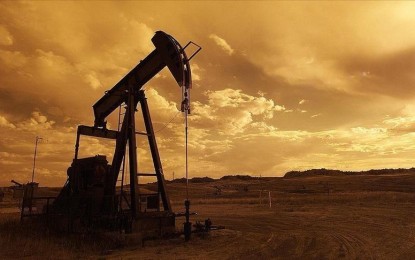 ANKARA – Oil prices increased on Thursday amid higher demand for crude in the United States.
International benchmark Brent crude traded at USD77.68 per barrel at 9:15 a.m. local time (0615 GMT), a 0.12 percent increase from the closing price of USD77.59 a barrel in the previous trading session.
At the same time, American benchmark West Texas Intermediate (WTI) traded at USD73.17 per barrel, a 0.27 percent rise after the previous session closed at USD72.97 a barrel.
US commercial crude oil inventories decreased by 7.5 million barrels to 473.7 million barrels during the week ending March 24, according to data released by the Energy Information Administration (EIA) late Wednesday.
Inventories fell against the American Petroleum Institute's expectation of an increase of 187,000 barrels.
The unexpected drop in oil inventories indicates a surge in demand in the world's largest oil consumer.
Fear of supply disruptions continues to dominate the global oil market, pushing prices higher.
Supply concerns emerged following reports that claimed crude exports from Iraq's northern Kirkuk fields were halted after Iraq won an arbitration case against Türkiye.
Türkiye's Energy Ministry described the issue as "a reflection of a years-long dispute" between the central government in Iraq and the Kurdish Regional Government (KRG) over the share of oil revenues.
Meanwhile, a stronger US dollar limited price upticks.
The US dollar index, which measures the value of the American dollar against a basket of currencies, including the Japanese yen, British pound, Canadian dollar, Swedish krona, and Swiss franc, increased 0.11 percent to 102.75 early Thursday.
When the dollar gains value against other currencies, dollar-denominated oil becomes more expensive for buyers, discouraging trade. (Anadolu)