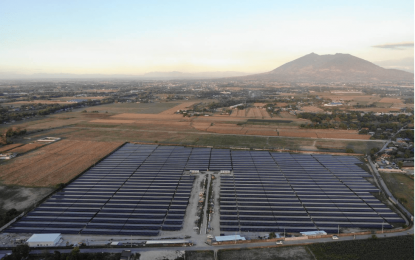 MANILA – The Philippine government's policy reforms and measures in strengthening the renewable energy (RE) sector are gaining ground amid the increased interest from the private sector to invest in RE in the country.
In Fitch Solutions Country Risk & Industry Research's recent commentary on the country's RE sector, increasing clarity and support for renewables spur investor confidence and attractiveness of the Philippines for foreign firms.
"We believe that the Philippines' power sector growth will be heavily supported by expanding non-hydropower renewables sector, following increasing commitments by power companies toward renewables and reducing stakes in coal power," Fitch Solutions said.
The report said that in 10 years, net installed RE capacity in the Philippines will grow from 29.5 gigawatts (GW) to 45.4 GW by 2032, with an annual average growth of 4.4 percent.
"We believe that close to 50 percent of this capacity growth will come from non-hydropower renewables sector, which will experience 7.9 GW in capacity expansion," it added.
The Fitch Solutions report also shows that with the increasing investments in renewables sector, the share of coal-fired generation plants in net capacity additions over 10 years will decrease.
It forecasted that coal-fired power plants, which have the largest share of more than half of the energy mix in 2022, will be behind new RE installed-capacity within a decade.
Fitch Solutions also cited investment commitments from Philippine conglomerates in renewables.
ACEN, a unit of the Ayala Group, announced it will raise renewable power capacity from 4 GW to 20 GW by 2030.
Its recent divestment from the coal-fired South Luzon Thermal Energy Company has allowed the company to receive PHP7.2 billion funding from the Asian Development Bank for ACEN's RE projects.
This month, AboitizPower also announced an allocation of PHP190 billion for its clean energy capacity over the coming years.
"The government has been increasingly supportive of renewables through its policies and also by opening the market to private and foreign companies," Fitch Solutions said.
Last year, the Marcos administration has amended the Renewable Energy Act that now allows full foreign ownership in RE projects.
On Thursday, the Department of Energy awarded three offshore wind energy service contracts to Copenhagen Investment Partners (CIP), a Danish firm that will invest USD5 billion in offshore wind projects in the country.
The company is the first foreign firm that will have a 100-percent ownership for its RE projects here.
"We believe that there will be an increase in foreign companies in the renewables market, diversifying the competitive landscape and spurring a stronger expansion of the solar and wind power sectors. Prominently, these foreign companies will be able to bring in their expertise in the wind power sector, placing upside risks on the current growth trajectory that the sector has," the commentary read.
These developments in the renewables sector are expected to help the government in its target to increase RE share in the energy mix to 35 percent by 2030 and to 50 percent by 2040.
Currently, RE shares 22 percent in the energy mix. (PNA)