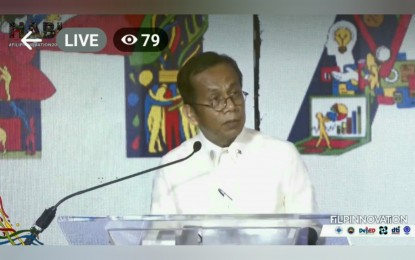 MANILA – The Marcos administration recognizes the vital role of innovation to sustain the country's economic growth, National Economic and Development Authority (NEDA) Secretary Arsenio Balisacan said Friday.
At the National Innovation Day 2023 celebration in Pasay City, Balisacan said the administration's medium-term plan devoted a chapter on how the country can leverage innovation to promote inclusive growth.
The Philippine Development Plan (PDP) 2023-2028's Chapter 8: Advance Research and Development, Technology, and Innovation, provided assessment of sectoral constraints, while laying out strategies, programs, and legislative priorities to be pursued to promote innovation among industries, and identify metrics to measure the country's progress in harnessing research and development (R&D), technology, and innovation.
"Strategies to enable such an ecosystem are woven across the various Plan chapters covering different sectors and priority areas," Balisacan said.
He added stakeholders are crafting the National Innovation Agenda and Strategy document, a roadmap to establish and sustain a dynamic innovation ecosystem that will encourage Filipino talents to create and translate their ideas into high-quality and competitive products and services.
"We will remove the barriers to innovation by putting the necessary enablers in our ecosystem. These enablers include the right policies, innovation-friendly regulations, good governance, accessible financing, state-of-the-art infrastructure, and a supportive culture," the NEDA chief said.
He added the government plays a crucial role as an enabler in the innovation ecosystem, as the public sector should nurture new innovators and entrepreneurs, especially during the early stages of their innovation journey.
"We will help create the necessary environment wherein Filipino innovators can easily link with businesses and private investors to introduce new and innovative solutions to the market," he said.
Moreover, Balisacan underscored the need to continue investing in R&D, especially local technologies and materials, prioritizing the enhancement of new skills through education and training, and accelerating digitalization in government services. (PNA)