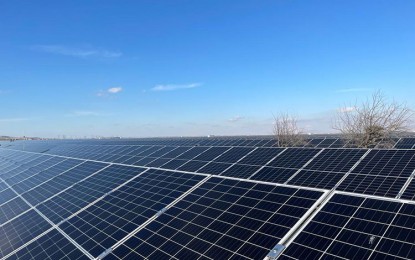 ANKARA – The official opening of the Karapinar solar plant in Konya, in southcentral Türkiye, Europe's biggest solar power plant with 1,350 megawatts (MW) of installed capacity, will take place on Tuesday.
According to the plant developer, Kalyon Enerji, more than 3 million solar panels at the facility are to generate 3 million kilowatt-hours of electricity annually, enough to provide power to 2 million people and prevent the use of US$450 million of fossil fuel equivalent resources.
Kalyon Enerji developed the plant as part of the country's Renewable Energy Resource Zone (YEKA), a government initiative to establish renewable facilities in areas with a high concentration of at least one renewable energy source, such as wind or solar power.
YEKA projects use investments from local investors and/or consortiums for the manufacture of equipment and the construction of large-scale electricity generation facilities.
The facility differs from others listed as large solar parks in that it is funded by a group of investors or consortiums rather than a single investor.
The plant covers an area of 20,000 decares and is situated in an area with the highest solar exposure.
The solar panels in the facility come from Türkiye's first integrated solar ingot-wafer-module-cell production factory in Ankara, which was established by Kalyon Solar Energy Technologies Production Company and started production on Aug. 19, 2020.
In recent years, YEKA projects have been the main drivers of growth in renewable energy, both in terms of technology development, equipment manufacture and electricity generation. (Anadolu)