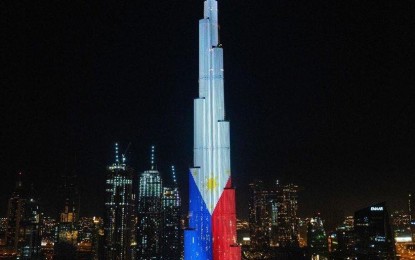 DUBAI, United Arab Emirates – Interior Secretary Benjamin Abalos Jr. will open and deliver a keynote address before prominent property and investment investors at the Philippines' largest twin investment summit and expo in Dubai next week.
Abalos will shed light on Philippine national and local government units' initiatives on good governance, peace and order, sustainable development, ease of doing business and effective delivery of services -- elements that boost confidence of investors in the Philippines, according to a news release.
The inaugural Philippine Economic and Investment Summit (PEIS) and the 9th Philippine Property and Investment Exhibition (PPIE) will be held on May 12-13, 2023, at Radisson Blu Hotel, Deira Creek, Dubai.
The two-day international events will be open to the public for free.
Abalos, along with Alfonso Ver, Philippine Ambassador to the UAE, will inaugurate the twin events, which will provide a platform for top firms in property development, banking, financial, and investment sectors as well as LGUs to woo foreign and Filipino investors to invest in the Philippines.
Abalos is poised to share invaluable insights regarding the Philippine government's efforts to strengthen transparent governance, establish dependable infrastructure, and provide efficient public services to spur economic progress.
"The active involvement of the Department of the Interior and Local Government in PPIE and PEIS will exert a noteworthy impact on the Philippines' stature as a highly attractive investment center in the Asian region. We at DILG believe that the transparency and accountability of LGUs can instill confidence in investors," Abalos said.
He will also engage in an exchange of knowledge, insights and strategies aimed at fostering robust partnerships between the UAE and the Philippines.
Ver said the UAE's "impressive" progress as a global model of development has been a source of inspiration for the Philippines.
"I believe that we can further elevate our partnership by learning from their best practices and investment promotion strategies. I would like to commend New Perspective Media Group, organizers of the Philippines' largest investment summit and expo in the UAE for providing a timely opportunity for businesses and investors in the UAE and the wider Middle East to explore the immense potential of the Philippine market. Through these events, we can promote mutual growth and development that benefits both our countries," Ver said.
For her part, Dr. Karen Remo, CEO & Founder of New Perspective Media Group, and chairperson of PPIE and PEIS, said Dubai, being a global business hub, presents the perfect venue for top property and investment firms as well as LGUs to promote their prime investment projects in the Philippines, to the more than 190 nationalities based in the UAE.
"The UAE is known for its unparalleled success in facilitating international consumer, business and government events. Through PPIE and PEIS, NPM Group aims to further enhance the burgeoning partnership between our two nations by promoting investment opportunities," she said.
The Philippine economy grew by 7.6 percent in 2022, positioning it as the fastest-growing economy in the ASEAN region, according to the National Economic and Development Authority.
This growth marks the quickest rate of economic expansion for the country in over four decades, exceeding the government's target of 6.5 to 7.5 percent.
Overseas remittances continue to be a strong impetus, accounting for 8.9 percent of the country's Gross Domestic Product and 8.4 percent of Gross National Income.
This progress will be facilitated by recent measures that have been put in place to further liberalize the economy and enhance its attractiveness to foreign investment.
The Philippine government has recently passed legislation allowing full foreign ownership of companies that provide public services, while also enacting policies to lower corporate income tax rates and rationalize fiscal incentives.
Additionally, the minimum paid-up capital requirements for foreign retailers and start-ups introducing advanced technology have been reduced.
For further information or to register for PPIE and PEIS, please visit www.ppie.ae and www.ppie.ae/peis/ respectively.
PPIE is supported by Rockwell Land and RLC Residences as gold sponsors, and Ayala Land as silver sponsor. (PR)