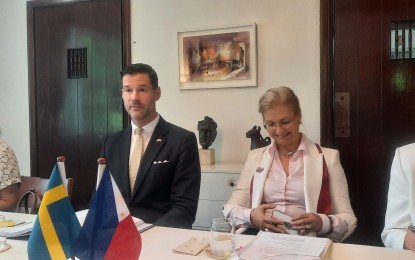 MANILA – Sweden's Foreign Trade Minister Johan Forssell has underscored the need to resume talks between the Philippines and the European Union (EU) for a bilateral free trade agreement (FTA) to facilitate a freer flow of goods between the two parties.
The Philippines is benefitting from the EU Generalised Scheme of Preferences Plus (GSP+) as more than 6,000 goods were slapped with zero tariff upon entering the EU market.
"But from our perspective, we have been, for many decades, a very strong supporter of free and open and rules-based trade. So I believe that when the time is right, we should also restart the FTA negotiations between the Philippines and European Union," Forssell told reporters during his two-day visit here on May 18 and 19.
Forssell said an EU-Philippines FTA "must be the ultimate goal" of the two parties when it comes to boosting trade ties.
It has been a decade since the Philippines and the EU launched exploratory talks on bilateral FTA.
There were two negotiations held in Brussels in 2016 and in Cebu in 2017, but talks have been on hiatus for six years now.
Meanwhile, Forssell said the economic growth, demographics, and the infrastructure program and the transition to clean energy of the Marcos administration make the Philippines an attractive destination for Swedish investors.
"The Philippines is really a key market for us, so it was important to come here," he said.
Forssell said he aims to bring a Swedish business delegation to Manila and also to invite Filipino companies to look into investment and trade opportunities in Sweden.
He added there are currently 40 Swedish firms operating in the Philippines, including popular brands like H&M and IKEA. (PNA)