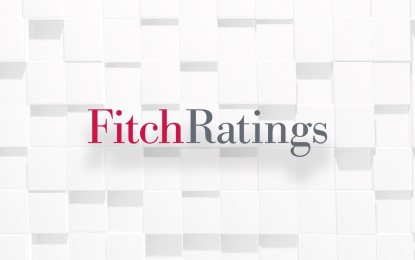 MANILA – The Philippines' robust post-pandemic recovery and expansion along with sound economic policy framework made Fitch Ratings revised on Monday the outlook on the country's credit ratings from negative to stable, and affirmed its 'BBB' rating.
"The revision of the Outlook to Stable reflects Fitch's improved confidence that the Philippines is returning to strong medium-term growth after the Covid-19 pandemic, supporting sustained reductions in government debt/GDP, after substantial increases in recent years," the debt rater said in a commentary.
It also attributed this development to its reading that the country's "economic policy framework remains sound and in line with 'BBB' peers, despite its low scores on World Bank Governance indicators."
This latest ratings action on the country sustained the affirmations that the country received for its investment grade ratings even during the pandemic.
The credit rater forecasts medium term growth of over 6 percent for the Philippines, the domestic economy's pre-pandemic growth level.
It explained that the level of its growth projection for the country is "considerably stronger than the 'BBB' median of 3 percent, after a record outturn of 7.6 percent in 2022."
This growth level, it said, indicates "normalization of activity after the pandemic and the government's investment programme."
It noted that deceleration of growth, as measured by gross domestic product (GDP), to 6.6 percent in the first quarter of this year showed that boost from post-pandemic recovery is fading.
It, however, noted that "ongoing reforms to the business environment and investment regulations create upside potential for growth."
Relatively, the credit rater projects government's budget gap to decline to 2.8 percent of GDP for this and next year from an estimated 3.3 percent of GDP in 2022 and 4.6 percent of domestic output in 2021.
"This is consistent with a narrowing of the budgetary central government deficit to 5.7 percent of GDP by 2024, from 7.3 percent of GDP in 2022 and 8.6 percent of GDP in 2021," it said, citing that "the gradual pace of consolidation reflects the authorities' focus on fostering economic growth and development."
Based on the data released after the meeting of the inter-agency Development Budget and Coordination Committee (DBCC) last April 24, budget deficit for this year would account for 6.1 percent of domestic output at around PHP1.499 billion.
Revenue program for this year is PHP3.729 trillion, or about 15.2 percent of GDP, while disbursement is targeted to about PHP5.228 trillion, 21.3 perfcent of GDP.
For 2024, revenues are programmed to reach PHP4.184 trillion while disbursements would be at PHP5.547 trillion, which will result to a deficit of PHP1.362 billion, 5.1 percent of GDP.
GDP assumption for this year has been set to between 6-7 percent while it is 6.5-8 percent for 2024-28.
"We consider the fiscal revenue targets unambitious and expect them to be exceeded, as in recent years. However, spending will also likely exceed budgeted amounts. Overall budget balance outturns have tended to be close to targets in recent history," Fitch Ratings said.
It also forecasts the share of government debt to GDP to go down to about 52 percent of domestic output next year "on strong nominal GDP growth and narrowing fiscal deficits."
"This is broadly in line with our projections for the 'BBB' median, although the Philippines used to be stronger than the median," it said.
Relatively, Fitch projects inflation to average at 4 percent by 2024, the upper end of the government's 2-4 percent target band.
As of end-April this year, rate of price increases averaged at 7.9 percent, with the April level slowing to 6.6 percent after hitting a 14-year high of 8.7 percent last January.
"We continue to view the central bank's inflation-targeting framework and flexible exchange rate regime as credible," it said, citing that the Bangko Sentral ng Pilipinas' (BSP) interventions to address the volatility of the local currency "have been reversed."
The Philippine peso is currently trading at the 55-level against the US dollar, an improvement compared to its level in September to October 2022 when it hit record-low of 59.00 to a greenback.
"Monetary financing to the government during the pandemic was more limited and was reversed more quickly than in some peers. The government's response to the commodity price shock has been measured, for example in resisting calls to introduce fuel subsidies," the commentary added. (PNA)