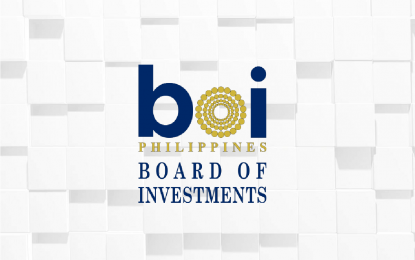 MANILA – Eight Taiwanese firms have expressed their interest to invest in the country, particularly in the manufacturing sector.
In a statement Thursday, the Board of Investments (BOI) said it received on May 16 the Taiwanese delegation that is seeking investment opportunities in the Philippines, particularly in expanding their presence in the manufacture of electronics and semiconductors, as well as industrial and machinery parts and components.
"These companies are engaged in manufacturing circuit boards, high precision terminals for memory card connectors, and metal parts stamping. Their visit aimed to explore incentives available for the semiconductor industry in the Philippines, assess local market demand, and establish connections with existing IC packaging and testing companies," it said.
The BOI said a Taiwanese business mission also visited Manila on March 6.
It noted that the interest of Taiwanese firms in the Philippines reaffirms the country's status as an investment hotspot in the ASEAN region.
"This recent visit of the Taiwanese business delegation not only strengthens the economic ties between the two nations but also paves the way for further collaboration and growth," the investment promotion agency said.
According to the BOI, Taiwan is the country's 10th largest source of investment pledges in 2022, amounting to nearly PHP1 billion.
Foreign direct investments from Taiwan in the same year stood at USD21.18 million. (PNA)