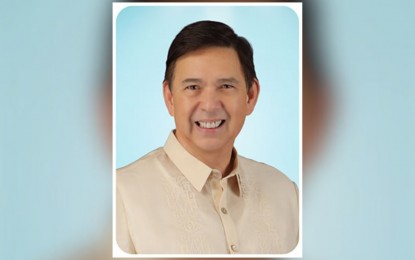 MANILA – House Deputy Speaker and Batangas (6th District) Rep. Ralph Recto on Friday urged the Senate to pass the House-approved measure allowing persons with disabilities (PWDs) to vote early during elections in order to provide PWDs an "access ramp" to democracy.
In a statement, Recto said passing the measure would also give millions of PWDs the political muscle to elect more of their kind to public office.
"House Bill No. 7576 is the assistive device that removes an institutional barrier that prevents PWDs from exercising their right to vote," he said.
Passed by a 295-0 vote early this month, HB 7576 grants early voting rights to PWDs, qualified senior citizens, health workers, and lawyers on election day duty.
In pushing for the enactment of the measure, the veteran lawmaker noted that despite numbering in the millions – their share of population ranging from 1.7 percent to 12 percent per official estimates – PWD leaders have not broken "the political glass ceiling" despite their sterling qualities.
"No sector is grossly unrepresented. The truly marginalized remain unseen and unheard of in policymaking bodies, from local councils to Congress," he said.
In the House of Representatives, the last PWD who served was the late journalist Art Borjal, a sectoral representative appointed by President Corazon Aquino. He was in office until June 1992.
After a 30 year-drought, the P3PWD Party List, with former Comelec Commissioner Rowena Guanzon as first nominee, garnered almost 400,000 votes, more than enough for one seat, until her assumption of duties was halted by a Supreme Court temporary restraining order.
"My point is, they should have more seats. Sa dami ng (With so many) party lists, yung pinaka-marginalized ang wala (that most marginalized is missing). And they are not just a sector. They are a nation. And if this bill will result in their issues getting discussed and more of them getting elected, then its impact would be felt beyond voting day," Recto said.
He said the bill complements Republic Act 10366, which authorizes the Commission on Elections to establish accessible precincts assigned exclusively for PWDs and senior citizens.
"There is a law which assigns the place. What is lacking is a law which provides more time for them to vote," he said.
He also pointed out that hindrances to voting have resulted in the low number of PWDs registered to vote, with 318,747 in 2016, and only 80 percent of them managing to cast their vote.
"The Senate must pass the bill and President Ferdinand R. Marcos Jr. must sign it. The merits of the bill are so evident that we cannot be blind to it," Recto said. (PNA)