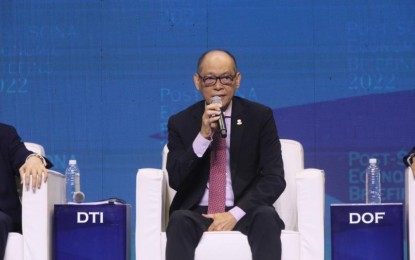 MANILA – The Bangko Sentral ng Pilipinas' (BSP) contribution to the Maharlika Investment Fund (MIF) will not threaten its financial stability, Finance Secretary Benjamin Diokno has said.
"The contributions being asked from BSP for the first two years of the MIF, for a maximum of PHP50 billion, are dividends declared in favor of the national government. That's the net profit of BSP and the NG (National Government) decides how to use it," Diokno told reporters in a Viber message on Friday.
"I estimate that BSP's dividend for the NG in 2022 would be in the neighborhood of PHP30 billion," he added.
Diokno, former BSP governor during the Duterte administration, said the BSP's financial condition
is much better now than when its revised charter was being deliberated upon.
The BSP was also granted additional tools to conduct its primary mandates, he added.
"At the height of the pandemic, when I was BSP Governor, BSP extended a loan of PHP540 billion -- repeat, PHP540 billion -- interest-free to the national government. To help the country during its economic distress. That's how good BSP's finances are," Diokno said.
The MIF bill, approved by both the Senate and the House of Representatives on May 31, is currently awaiting the signature of President Ferdinand R. Marcos Jr.
The finance department earlier said the MIF would be the Philippines' first-ever sovereign wealth fund that will optimize national funds by generating returns to support the administration's economic goals as set in the Medium-Term Fiscal Framework, the 8-point Socioeconomic Agenda, and the Philippine Development Plan 2023-2028.
The Fund will be invested in a wide range of assets, including foreign currencies, fixed-income instruments, domestic and foreign corporate bonds, joint ventures, mergers and acquisitions, real estate and high-impact infrastructure projects, and projects that contribute to attain sustainable development. (PNA)