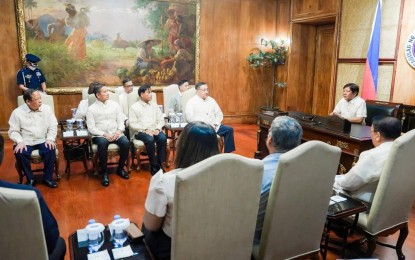 MANILA – Look for "non-traditional" partners in the areas of trade and security and defense, President Ferdinand R. Marcos Jr. on Wednesday told the recently-appointed Filipino ambassadors.
Marcos made the call in a meeting at Malacañan Palace in Manila, stressing the need for the Philippines to cope with the changing times, given the current global situation amid the "pandemic economy."
"After all the changes that have been imposed upon us, like the pandemic economy and the world situation, looking for what we sometimes referred to as non-traditional partners in trades, in any kind, in security and defense issues," he said.
"All these things, we are always looking for partners," Marcos added.
The Chief Executive reiterated that his foreign policy makes the Philippines neutral and independent.
"We do not subscribe to any notion of a bipolar world. We only side, of course, to the Philippines, not to the US, not to Beijing, not to Moscow. That's very much being independent in what we do," he said.
Marcos also told the diplomats that they could discuss with him opportunities that could help improve the priority sectors.
He said he would listen to "promising" ideas for the realization of digital transformation and the development of agriculture, energy and infrastructure.
"Now, if there are opportunities that would come up, you should explore them and if they're promising enough, then we'll take it up. We'll try to see if something can come up. There's no harm in trying and kung anuman ang mangyari (whatever may happen), at least we tried," Marcos said.
"So let us keep looking at those areas. And also what I found many times, you go there and you talk about agri and something else comes up," he added.
Present during the meeting were Permanent Representative of the Philippines to the United Nations Carlos Sorreta and Ambassadors Henry Bensurto Jr. (Turkey), Renato Pedro Villa (Saudi Arabia), Raul Hernandez (Oman), Paul Raymund Cortez (Portugal), Josel Ignacio (India) and Maria Angela Ponce (Malaysia).
The ambassadors secured the Commission on Appointments' nod on May 31.
New appointment
Meantime, Marcos designated Brig. Gen. Freddie dela Cruz as the commander of the Armed Forces of the Philippines' (AFP) Special Operations Command (AFPSOCOM).
Dela Cruz's appointment was announced by the Presidential Communications Office (PCO) in a Facebook post.
AFPSOCOM functions as the AFP's unified special operations command and is tasked to plan, conduct and support the special operations of the armed forces.
AFPSOCOM takes command and supervision of the Special Operations Wing of the Air Force, the Naval Special Operations Group from the Navy; the Army's Scout Ranger Regiment, the Army's Special Forces Regiment and Light Reaction Regiment; and the Joint Special Operations Group of the AFP General Headquarters. (PNA)