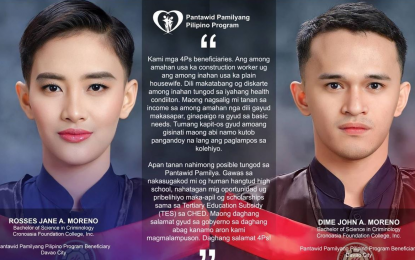 MANILA – Two siblings whose family is solely dependent on their father's meager income as construction worker have joined a long list of successful beneficiaries of the government's Pantawid Pamilyang Pilipino Program (4Ps).
This, as both Rosses Jane and Dime John A. Moreno from Barangay Butulan, Jose Abad Santos (JAS) town in Davao Occidental province completed their bachelor's degree in criminology at the Cronasia Foundation College, Inc. in General Santos City.
DSWD spokesperson, Assistant Secretary Romel Lopez, said Rosses Jane and Dime John, both former 4Ps monitored children, have not only finished college but have also been recognized for their outstanding achievements on their graduation day.
Rosses and Dime, he said, hail from a family of four siblings, whose sick mother is unable to work.
However, through the unwavering support and guidance of the 4Ps program, the siblings were able to complete their high school education, Lopez added.
"With their determination and the opportunities presented by the program, the siblings were fortunate enough to secure scholarships, including the Tertiary Education Subsidy (TES) provided by the Commission on Higher Education (CHED)," Lopez said.
It was learned that their family's status as 4Ps beneficiaries played a crucial role in their selection for these scholarships. As part of the whole-of-government support, 4Ps beneficiaries like Rosses and Dime, are given priority in government programs and services.
The 4Ps is a social protection program that focuses on human capital development by providing cash grants to eligible poor households subject to their compliance with education and health conditions, particularly for children aged 0-18.
It was institutionalized through Republic Act No. 11310, making the program the flagship poverty reduction strategy of the Philippine government.
The Moreno siblings, Lopez said, are just two examples of the many beneficiaries of the 4Ps who have exhibited unwavering perseverance, resilience and determination in the face of adversity.
DSWD believes that their story will serve as a testament to the transformative power of education and the life-changing impact that social support programs can have on individuals and their families.
As they put on their graduation caps and gowns, the DSWD extends its heartfelt congratulations and salutes the inspiring achievements of Rosses and Dime.
"Their journey serves as an inspiration not only to other 4Ps beneficiaries but to all individuals facing similar challenges. It is a reminder that with dedication and the support of various stakeholders, dreams can be realized, and the cycle of poverty can be broken," Lopez said.
The story of the Moreno siblings embodies the triumph of the human spirit against all odds. Through their unwavering determination, they have risen above their circumstances and transformed their lives.
The 4Ps, alongside the support of the CHED, the local governments of Jose Abad Santos and Davao Occidental, has provided them with the necessary tools and opportunities to succeed.
Their graduation symbolizes a new chapter in their lives, where they can now contribute to society and become catalysts for change.
"Rosses and Dime's accomplishments stand as a shining example of the potential that lies within each 4Ps beneficiary and serves as an inspiration for others who are striving to break free from the chains of poverty," Lopez said. (PNA)