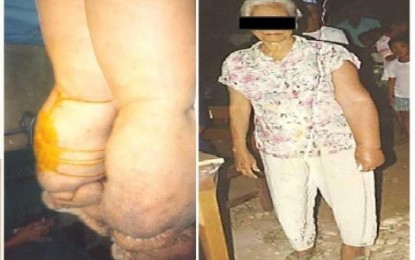 MANILA – The Department of Health (DOH) on Friday reported that 44 out of 46 provinces in the country where lymphatic filariasis (LF) is endemic have been declared free of the infection.
In a media forum, DOH's Disease Prevention and Control Bureau medical officer Kim Patrick Tejano noted that LF is a chronic infection affecting more than 1 billion people among 73 countries that are classified as tropical and subtropical.
"Some countries have successfully eliminated filariasis, while here in the Philippines, there are ongoing interventions to eliminate filariasis," he said.
"Since 2008, when DOH's program was launched and shifted from controlling filariasis to eliminating filariasis, we have identified 46 provinces where filariasis is endemic, meaning there is local transmission."
While the DOH has not disclosed the remaining two provinces which are still being monitored, an international study of LF situation in the Philippines showed that most of the cases logged are from the Davao Region, Bicol Region, Palawan, Eastern Samar, Northern Samar, Caraga (Region 13), Surigao del Sur, Surigao del Norte, and Mimaropa (Region 4B).
According to the World Health Organization, LF is a neglected tropical disease in the country, which is caused by two parasites -- Wuchereria bancrofti, and Brugia malayi -- transmitted by mosquito species Culex, Anopheles, Mansonia and Aedes.
LF causes damage to lymphatic vessels which leads to chronic and overt manifestations of lymphoedema or swelling of certain parts of the body due to build-up of lymph fluid.
Tejano said most of the LF patients in the country experience lymphoedema in their arms, chest, genitals or legs.
The WHO has recommended regimens of albendazole, diethylcarbamazine and ivermectin as part of the mass drug administration or preventive therapy which stops the spread of infection.
"Kung nasa late stage na at nag-harden na 'yung balat dun sa pamamaga sa paa, 'yung (If it's in the late stage and the skin in the swollen area had already hardened) washing, drying, elevation, exercise, and ensuring the other practices for it will do," he said.
"Iyong scrotal area or genital area ng mga kalalakihan ay lumalaki rin, maaari pa itong maoperahan pa, pwede pa matanggal ang fluid at parasite. Kumbaga, 'yung (The scrotal area or genital area among men will also swell, and might be operated on, the fluid and parasites can still be removed. In a sense, the) reconstructive surgery is a management procedure," he added.
Apart from appropriate medication, LF patients are also advised to observe hygienic practices for the affected limbs for morbidity management and improve sanitation to reduce vector breeding habitats.
The DOH, together with the local government units, conducts mass drug administration and information drive about the breeding sites of culprit mosquitoes in all the provinces affected by filariasis to eliminate LF cases in the country. (PNA)