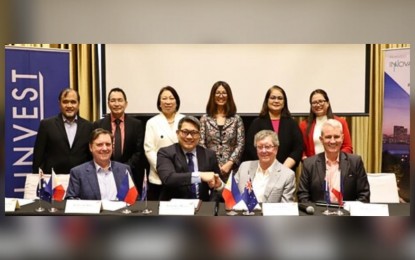 MANILA – Australian investment company St Baker Energy Innovation Fund (StBEIF) is pouring in USD10 million worth of investments for a battery manufacturing facility in New Clark City.
The Board of Investments (BOI) shared Friday that the investment firm has signed a lease contract with FCGC Corp., a unit of Filinvest Land Inc. (FLI), to put up a lithium-ion battery production inside the Filinvest Innovation Park inside the New Clark City — a flagship program of government-owned and controlled corporation Bases Conversion and Development Authority (BCDA) in Central Luzon.
The lease contract was signed by StBEIF founder and director Trevor St Baker and FLI president and chief executive officer Tristan Las Marias last July 17 in Alabang, Muntinlupa City.
"The USD10-million project is capable of producing batteries annually to store more than one gigawatt-hour of electricity and provide energy storage backup for solar PV (photovoltaic) in homes, sporting and entertainment venues," the BOI said in a statement.
It added that StBEIF's battery production in Central Luzon will also support the government's push for stimulating the electric vehicle industry, as this will allow the localization of parts for public e-vehicle fast charging stations and batteries for small e-vehicles.
The BOI added the manufacturing plant will begin commercial operation in the first quarter of next year, eyeing an initial output of 150 megawatt-hours per annum.
By 2030, the facility targets to hit its full first-stage production capacity of 1.2 gigawatt-hours. (PNA)