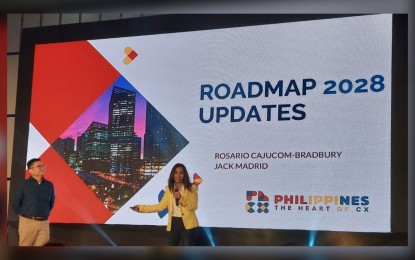 MANILA – The Contact Center Association of the Philippines (CCAP) is optimistic that the information technology and business process outsourcing (ITPO) sector will be able to hit its target headcount despite the emergence of artificial intelligence (AI).
In a statement Thursday, CCAP managing director Rosario Cajucom-Bradbury said the group believes that generative AI -- a deep-learning AI that produce various contents like texts, images, audio, and other contents based on the data that were feed on them -- can boost the sector's productivity rather than becoming a threat to job creation.
Of the 2.5 million full-time employment (FTE) target of the ITBPO industry by 2028, CCAP is expected to account for 2.3 million FTEs.
"We are confident that the target employment figure will be achieved even with the emergence of generative AI," Cajucom-Bradbury said. "Generative AI can enhance the strengths of our Filipino agents who can then focus on active listening and become more empathetic and engaging when rendering service to our customers."
She said the industry continues to reskill and upskill the workforce to equip them with the right knowledge and skills with the fast-evolving nature of jobs in the industry.
"Agents can be redeployed and upskilled to make them always relevant to the future business model," she added.
Aside from employing over 90 percent in the ITBPO industry, CCAP is also expected to contribute USD49 billion in revenues of the target USD59 billion revenues of the entire sector in 2028.
In 2022, CCAP accounted for USD27 billion of the USD32.5 billion revenues of the ITBPO industry.
Cajucom-Bradbury also cited opportunities that will help the industry grow and achieve its 2028 targets. These include the hybrid work arrangement, possible wage hikes as the workforce improves the quality of their services and expansion to the countryside.
CCAP is currently holding the Contact Islands Conference with the theme "The Philippines, the Heart of CX" -- centering on the country's customer experience service, which is leading globally.
The conference is being held at Dusit Thani Mactan in Lapu-Lapu City, Cebu. (PNA)