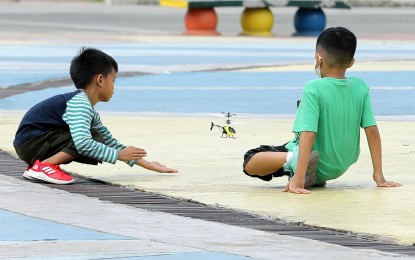 MANILA – Eye problems among children could be affected by "sedentary screen time", an activity described by the World Health Organization (WHO) done in front of a screen, such as television, computer, mobile phones and other gadgets.
"Minsan ang mga bata buong araw nasa screen, pero huwag natin kaligtaan na natututo sila sa ibang bagay, 'pag naglalaro (Sometimes children are on screen the whole day, but let us not forget that they learn from other things, when they are playing), physical play, outdoors, with physical activities and not just from their gadgets," Philippine Eye Research Institute (PERI) director Dr. Leo Cubillan said in a media Kapihan forum on Friday.
In 2019, the WHO released a new set of recommendations on screen time for children younger than five so they will grow up healthy.
Children under two should not spend time with screens at all while children ages two to five years old could be allowed only 60 minutes of screen time.
One and a half hours of screen time is allowed among children who are six to 10 years old.
Children ages 11 to 13 years old are allowed only two hours of screen time.
Myopia
Cubillan said young children may suffer from myopia if they lack enough time to play outdoors to play and be exposed to bright lights.
He noted that complications of high myopia or nearsightedness are increasing prevalence worldwide.
"In Kindergarten, 8.9 percent have error of refraction, 'yung kailangan nila magsalamin na majority ay nearsightedness, kapag high school umaabot na ito ng 16 percent, may mga eskwelahan na umaabot ng 30 percent, may iba namang classrooms sa probinsya na halos walang (they need to wear eye glasses and majority is nearsightedness, among high school [students] it's 16 percent, there are schools with 30 percent, there are classrooms in provinces with almost no) error of refraction," he said.
Since outdoor exposure helps reduce myopia progression among children, the Department of Health and the PERI have recommended to the Department of Education (DepEd) to include at least three hours of outdoor learning activities per day in its curriculum.
"Ngayon sa DepEd, meron nang (Currently, DepEd already has) at least one hour of outdoor activity daily for kindergarten pupils and primary school students," Cubillan said.
Retinopathy of prematurity
Babies who are born earlier than the typical 40 weeks of pregnancy are most likely to suffer from visual loss and visual impairment.
"Kapag premature ang bata, maaaring magkaroon ng deperensya sa likod ng mata ng bata (When a child is born premature, there could be a defect at the back of the child's eye)," Cubillan said.
"Most of the students in the School for the Blind have retinopathy of prematurity."
ROP is an eye disease among babies who are premature or who weigh less than three pounds at birth.
It is characterized by the growth of abnormal blood vessels in the retina or the light-sensitive layer of tissue in the back of the eye.
Cubillan disclosed that only 9.2 percent of the premature babies in the National Capital Region (NCR) are screened for ROP.
ROP is seen in 46 babies in the NCR per month, resulting in 552 ROP cases per year.
The DOH has released guidelines in the screening of infants at risk of ROP.
Infants who are labeled at risk by a pediatrician or neonatologist include those who are less than or equal to 32 weeks of age and who weigh less than or equal to 1,500 grams.
The initial exam is conducted 20 days postnatal age or before discharge. (PNA)