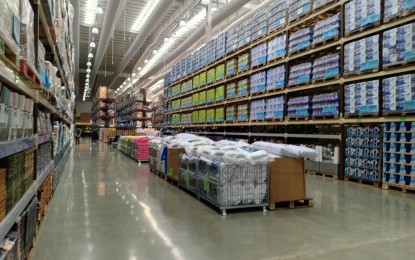 BACOLOD CITY – Membership retail establishment, Landers Superstore, has further expanded in the Philippines as it opened its 11th shop, the first in Western Visayas, in this city Thursday.

The largest in the country so far, Landers Bacolod stands on a 2.5-hectare site inside Megaworld's The Upper East, a 34-hectare modern central business district inaugurated by President Ferdinand R. Marcos Jr. in October last year.
"It's the fourth store in four months. The 11th store and the biggest store as well, so it's a fantastic milestone," Landers president and chief executive officer Greg Davis said during the VIP and media event Wednesday afternoon.
Earlier, it also opened outlets in Angeles City, Pampanga, Taguig City and Sta. Rosa, Laguna.
In Bacolod alone, the second store outside Metro Manila after Cebu, at least 43,000 customers have already signed up for membership, the highest among the Landers stores in the Philippines.
"It marks Landers' unprecedented growth in the post-pandemic years, rapidly gaining on its goal of spreading the superstore's unique brand of shopping expertise to more communities around the country, especially outside of Luzon," the company said in a statement.
Graham Coates, first vice president and head of Megaworld Lifestyle Malls, said having the biggest Landers store means Bacolod also has the widest choice of merchandise.
"The highest number of membership in history of Landers is very impressive. We are very excited about introducing this concept to Bacolod. We think it's long overdue and I think from the reaction of the customers, we're seeing that everyone is loving this concept," he added.
Landers Bacolod is located near two Megaworld residential condominiums and will eventually be connected to the soon-to-rise Upper East Mall through a bridgeway.
Mayor Alfredo Abelardo Benitez, who graced the opening event, said Landers Superstore is "very happy" with the response of the people of Bacolod.
"It's looking good. We're getting there in terms of development, in terms of progress that we are seeing. There's that confidence of investors. You wouldn't spend this much if you don't have confidence in the market," he added. (PNA)