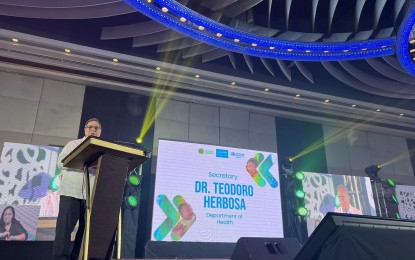 MANILA – The Department of Health (DOH) on Thursday reaffirmed its commitment to end the spread of vaccine-preventable diseases (VPDs) among children.
"By encouraging both children and their parents to religiously get routine immunization, we also give children an additional layer of protection against VPDs, dahil sa Healthy Pilipinas, Bawat Buhay ay Mahalaga (because in Healthy Philippines, every life is important)," Health Secretary Teodoro Herbosa said during his speech at a stakeholders' summit to discuss urgent actions on closing the child immunization gap.
According to the United Nations Children's Fund (UNICEF) and the World Health Organization (WHO) under the estimates of National Immunization Coverage (WUENIC) 2022, the Philippines remains among the top five countries with the most number of zero-dose children globally and the greatest contributor to the number of zero-dose children in East Asia and the Pacific Region.
The number of zero-dose or unvaccinated children between 2021 and 2022 has been reduced from about 1 million to 637,000 children for those born within 2022.
Nonetheless, more work needs to be done to reach the ideal 95 percent coverage, especially for those not reached in previous years.
UNICEF Philippines Representative Oyunsaikhan Dendevnorov urged all stakeholders to reignite their shared ambition of leaving no child behind.
"Until all of us come together to mend the gaps in routine immunization coverage, children in the Philippines will remain at risk of contracting and dying from diseases we can prevent. Vaccinating children gives them an added layer of defense against the many vulnerabilities they face, such as a lack of a safe and secure environment, and stable and healthy nutrition," she said.
Meanwhile, WHO Representative to the Philippines Dr. Rui Paulo de Jesus noted that the immunization summit offers a unique opportunity to review the national immunization program and learn from past experiences to develop a comprehensive plan to overcome the challenges and enhance immunization coverage for Filipino children.
"WHO calls upon legislators, decision-makers, local chief executives, and partners: let us take an active role in propelling this crucial program towards its ultimate success – achieving over 90 percent coverage of the target for every vaccine," he said.
National and local officials, development partners, professional associations, business partners, religious groups, and youth organizations participated in the summit to demonstrate that looking after children's health and well-being is everyone's responsibility.
The participants discussed needed reforms in immunization, such as the amendment of the Immunization Law; an increase in investments to strengthen primary health care as a key platform for immunization services; key health system strengthening building blocks, such as human resources and digitalization; deeper involvement of local chief executives; strengthening of the supply chain; and intensifying communication activities.
The City of Manila, one of the summit participants, shared its best practices in reaching vulnerable populations and a youth-led initiative to promote children's immunization during the pandemic. (PNA)