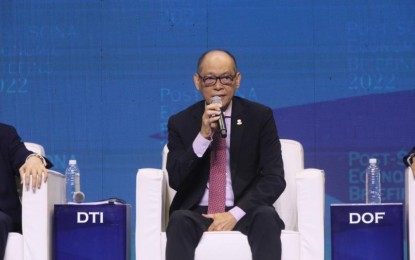 MANILA – The Department of Finance (DOF) said it may take as long as 60 years for the military and uniformed personnel (MUP) pension system to be sustainable if only new entrants will contribute to the pension fund.
"Contributions should be made by the new entrants according to our computation because if we don't do that, [it will take] 60 years [before it becomes sustainable]," Finance Undersecretary Alu Tiuseco said during the DOF's weekly press chat.
Under the current pension system, pensions and benefits of MUP are fully funded by the national government through annual appropriations.
MUPs are also automatically promoted one rank higher upon retirement. The monthly pension is automatically indexed to the salary of those in active service.
"Just to add also that we are trying to emphasize, that we are creating a sustainable pension system. Remember since it's non-contributory, it's really dependent on the availability of funds," Tiuseco said.
"What we are trying to solve is, pensioners should know that on this day, we will receive their pension because there's a fund that is growing. This is not just to address the fiscal space but to make sure that we have a fund for the pension," she added.
Data provided by the DOF earlier showed that pension arrearages amounted to PHP3.7 billion in 2021, PHP32.6 billion in 2022, PHP5.2 billion in 2023, with a projected PHP4.8 billion for 2024.
A substitute bill earlier approved by the House of Representatives ad hoc committee mandates that new entrants and those in active service will be mandated to contribute to the pension fund.
Among the salient provisions of the substitute bill include the 90 percent maximum retirement package based on base pay of all MUP, raising by 5 percent the previous package for AFP personnel while PNP personnel who served below 20 years will be eligible for separation lump sum, and fixing to 57 year old the age of retirement of all MUP.
The substitute bill also includes a 3 percent annual salary increase of all MUP.
MUPs however will be mandated to contribute 5 percent for the first three years, 7 percent for the next three years and 9 percent thereafter for active personnel while new entrants will contribute 9 percent of their base and longevity pay for their pension.
As a counterpart, the government will chip in 16 percent for the pension of those in active service during the first three years, 14 percent during the fourth to sixth year and 12 percent for the seventh year and onwards.
The government will contribute 12 percent for new entrants.
"That would reduce the overall burden of the government because there's a counterpart already. But the bulk of that will still be paid for by the government," Finance Undersecretary Cielo Magno said.
"So maybe in about 20 years it will be completely sustainable because the new entrants, they will have to pay for 20 years for their retirement fund. So the fully sustainable [fund] that's independent of the budgeting would be around 20 years," she added.
Finance Secretary Benjamin Diokno for his part said that the pension of those already retired should not be changed.
"That has been my position even before, not to touch the pension of those who are already retired because it's like a contractual obligation. We should not change that," Diokno said.
He also noted that all proposals will have fiscal implications.
"Our job is to show them that if we do this, [sustainability] will be in 60 years, if we do that, then it will take 20 years. Think about the fiscal space, if it eases, you can spend that for other purposes like education, healthcare, that's the advantage," Diokno said.
Diokno said they are proposing a loan restructuring for MUP personnel to help them with their financial situation and allow them to accommodate the required contribution. (PNA)