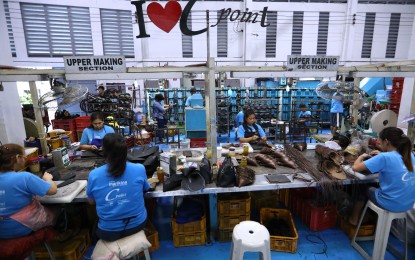 MANILA – Business leaders on Tuesday said the Philippines' 4.3 percent gross domestic product (GDP) growth in the second quarter is nothing to be ashamed of, stressing that it outperformed other countries during the same period.
In an interview, Jesus Arranza, chairman of the Federation of Philippine Industries (FPI), called the country's growth from April to June this year "very respectable."
He explained that the apparent dissatisfaction with the second quarter GDP performance lies in the fact that economists in the government and private sector have set very lofty goals.
Arranza said what is more surprising is that the Philippine economy managed to grow despite internal and external factors weighing down the economy, such as rising crude prices, supply chain disruptions and inflation surges.
"This (modest economic growth) is understandable because we have not fully recovered from the period of high inflation… and there were other issues. But all things considered, we are doing quite well," he added.
FPI is touted as the voice of the Philippine manufacturing sector, which membership includes food and beverage, automotive, textiles, steel, construction material and energy companies, among others.
Meanwhile, Sergio Ortiz-Luis, Jr., president of the Employers' Confederation of the Philippines (ECOP), also said that the 6 to 7 percent GDP growth targeted by some government economists was too optimistic.
"What is important is that we (Philippines) still managed to grow despite high cost of fuel, rising labor costs and supply problems. We should be thankful. Even China and EU (European Union) countries are not so lucky," he noted.
Ortiz-Luis pointed out that China only managed to grow 0.8 percent during the second quarter while Germany's economy virtually stagnated with zero growth during the three-month period.
The French economy grew half a percent while the Italian economy contracted 0.3 percent during the second quarter.
The businessman said that while developed countries grapple with the economic fallout of the Ukraine-Russia conflict, the Philippines continues to move forward albeit at a moderate pace. (PNA)