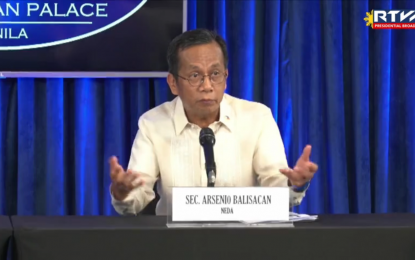 MANILA – The National Economic and Development Authority (NEDA) Board on Wednesday approved the inclusion of three more projects in the list of the government's priority infrastructure projects.
In a televised briefing at Malacañan Palace in Manila, NEDA Secretary Arsenio Balisacan said additional projects included in the infrastructure flagship projects (IFP) list include the Tarlac-Pangasinan-La Union Expressway or TPLEX Extension Project, the Philippine Rural Development Project Scale Up, and the upgrade expansion, operation and maintenance of the Laguindingan International Airport Project in Misamis Oriental.
"With their inclusion in the list, these projects will be prioritized in the government's annual budget preparation and will benefit from the expedited issuance of applicable permits and licenses, in accordance with current legal frameworks," Balisacan said.
He said the inclusion of these projects in the list is a significant contribution to the timely implementation of the projects and fully realizing their economic returns, and will also help the government avoid the possibility of increasing costs and financing charges due to delays.
The projects were included in the IFP list following the NEDA Board's approval of the revised guidelines for the formulation, prioritization and monitoring of the government's IFPs.
"Particularly, projects approved by the Investment Coordination Committee or ICC and confirmed by the NEDA Board, which are not in the current IFP list, but meet the criteria indicated in the IFPs guidelines, shall be included in the IFP list, subject to the endorsement from the concerned implementing agencies," Balisacan said.
He said the total cost of the 197 IFPs now amounts to PHP8.71 trillion.
Citing a report by the NEDA Board Committee on Infrastructure, Balisacan said that as of July 23, a total of 71 projects worth PHP4.11 trillion are now ongoing, up from 68 projects reported in the first quarter.
Additional projects that have advanced to the "ongoing" phase are the Metro Cebu Expressway, the Nautical Highway Network Improvement and the Daang Maharlika Improvement projects.
The Department of Public Works and Highways is implementing the connectivity and transportation infrastructure projects, which aim to improve connectivity across the country.
"Among the remaining 123 IFPs, 27 have been approved for implementation, eight are awaiting government approval, 52 are in the project preparation phase, while 36 are under the pre-project preparation phase as of July 2023," Balisacan said.
Meanwhile, Balisacan said the NEDA Board also approved on Wednesday the request for change in cost, scope and implementation timeline of the Flood Risk Management Project for Cagayan de Oro River.
The project aims to reduce flooding in high-risk and flood-prone areas, develop Cagayan de Oro River and strengthen the resilience of the communities along the river's stretch to climate change and other related hazards.
The Board also approved the provision of six fire trucks for Marawi City through an official development assistance (ODA) grant from China worth PHP72.5 million to support the Bangon Marawi Rehabilitation and Recovery program.
"By ensuring the efficient implementation of high-impact infrastructure projects, the Marcos administration aims to get the job done: we will enhance connectivity, reduce the cost of doing business, promote the creation of high-quality jobs, and ultimately reduce poverty sustainably to improve the lives of every Filipino," Balisacan said. (PNA)