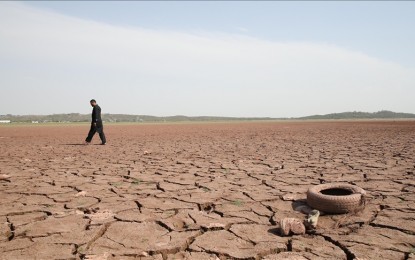 NAIROBI, Kenya – In a powerful address at the African Climate Summit in the Kenyan capital Nairobi, Tuesday, UN Secretary-General Antonio Guterres called for decisive climate action in addressing escalating extreme weather challenges.
Guterres urged global leaders to unite in their commitment to climate resilience, highlighting its critical role in mitigating the devastating impacts of climate change.
"I make a very strong appeal to the large emitters, the G-20 countries that are responsible for 80% of the emissions that will be meeting this week in New Delhi, India. Assume your responsibilities," Guterres said.
He underscored the urgency of addressing these challenges through decisive climate actions, warning that Africa is suffering the most.
"An injustice burns at the heart of the climate crisis, and its flame is scorching hopes and possibilities here in Africa."
Guterres pointed to his Climate Solidarity Pact and Acceleration Agenda as guiding principles for these actions.
He also pressed for a decisive shift away from fossil fuels, calling for credible plans to phase out coal by 2030 for OECD (Organization for Economic Co-operation and Development) countries and by 2040 for the rest of the world.
Speaking at the summit attended by 16 heads of states and over 10,000 delegates, Gutteres emphasized the importance of climate justice, urging developed nations to present clear and credible roadmaps for doubling adaptation finance by 2025.
Guterres called for the realization of the promised funding for climate support to developing nations.
"They must also keep their promise to provide $100 billion a year to developing countries for climate support, and fully replenish the Green Climate Fund," he said.
In terms of financing, Guterres highlighted the necessity of reforming the global financial system to support accelerated climate action within the framework of sustainable development.
The reforms include the establishment of an effective debt-relief mechanism, providing longer lending terms and lower interest rates.
Turning to Africa's vast potential in renewable energy and green growth, Guterres emphasized the continent's abundant renewable energy resources, including critical minerals crucial for green technologies.
He stressed the need for sustainable and transparent production and trade of these resources.
Guterres applauded the African leadership for their role in renewable energy, citing hydropower projects in Ethiopia, Kenya, and Sudan, as well as wind and solar initiatives across the continent. (Anadolu)