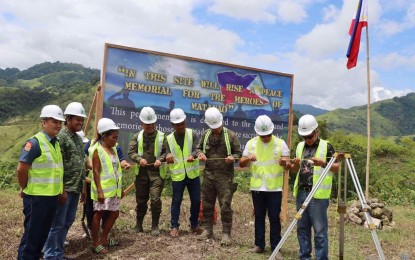 DAVAO CITY – Some people think that it would be impossible for a former lair of the New People's Army (NPA) to become an emerging tourism destination.

However, the local government unit (LGU) of Matanao, Davao del Sur, is out to prove skeptics wrong.

Early this week, Matanao officials hosted the first-ever Cave Congress in the Davao Region to showcase the richness and beauty of the town's over 60 caves.

Three of the caves - Su'bon, Asbang Faksol, and Dats – are all certified by the Department of Environment and Natural Resources (DENR) as safe and "tourist-ready."

The caverns in Barangay Asbang have been spruced up to preserve their natural beauty that no one would have known that these were once lairs of NPA rebels.

In fact, only a few years ago, local officials would have shooed unsuspecting visitors who are lured by the town's exotic caves, which were thought to be occupied by insurgents.

Years of peace initiatives and intensified campaign against the NPA, however, have borne fruit for places like Matanao which has been plagued by the rebels' terroristic activities, Mayor Vincent Fernandez said.

Before the term of then President Rodrigo Duterte, who aggressive advocated for a whole-nation approach to the insurgency problem, Fernandez described Barangay Asbang as a "war-torn area."

"Before we open our tourism here, I made sure that there is no presence of the NPA, that they no longer existed," he said. "I was apprehensive before (to invite visitors), but now cave tourism has changed the face of our municipality."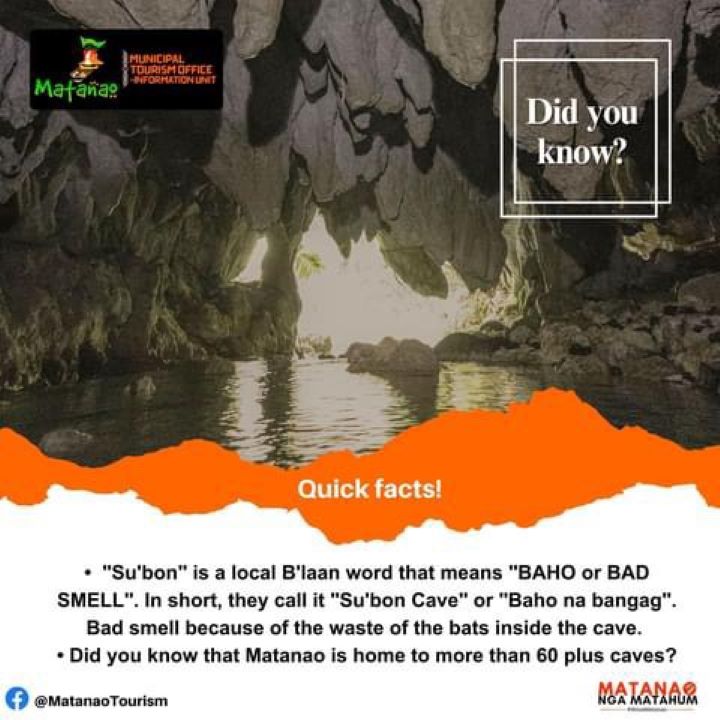 Caving as economic driver

Clover Jane Sabornido, the Matanao tourism officer, said Su'bon Cave is a "solution cave" with water flowing from the land surface through the cave's ceiling and underground creek.

"The cave is home to a variety of wild species like bats and swiftlets. Thus, it derived its name from the Blaan word "Su'bon", meaning "baho" or stinky due to the musty smell caused by the bats' guano inside the cave," Sabornido said.

The Asbang Faksol is also a solution cave with a dropping of water from the ceiling and an underground creek, while the Dats Cave is an active solution type of cave that is predominantly vadose, or underground water.

"It has an oval vertical entrance characterizing a meandering passage with only one entry point," Sabornido added.

DENR-11 conservation and development division head Myrna Erlinda Arbiol said the cave industry in Matanao has high potential in terms of economics.

"It might not be that famous now, but eventually, it will be known and the people around it will directly benefit from it in terms of livelihood," she said.

Fernandez, meanwhile, announced plans to open establishments such as inns, cafés, and restaurants to help locals on top of the public caves.

"We push for our tourism because we want people to visit Matanao. If there is tourism, there is an economic activity, he said.

Peace monument

To further prove that the town is now safe from insurgents, the LGU is setting up a peace memorial in Asbang.

Fernandez said the peace memorial will stand as a symbol of unity of all stakeholders of peace and the aspiration of the people for a peaceful community.

The peace memorial is also dedicated to the people who worked, dedicated, and paid the ultimate sacrifice in the name of peace – which is essential for the continuous progress of their municipality.

"The local government unit of Matanao is committed to preserving the lessons of history, because of those who made an ultimate sacrifice, peace has been attained. Through this, Matanao has been engaging in peace tourism to showcase the conflict transformation of the municipality from terrorism to tourism," Fernandez said. (PNA)