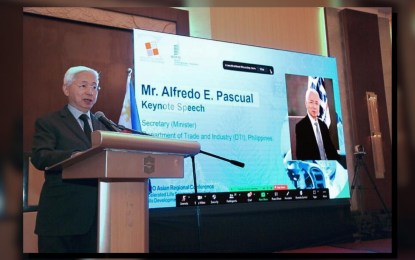 MANILA – President Ferdinand R. Marcos Jr. aims to raise the country's ranking in the Global Innovation Index (GII) report of the World Intellectual Property Organization (WIPO) by the end of his term in 2028.
"We believe that by addressing gaps and challenges in innovation inputs and outputs indices as well as in making continued investments in our educational and research institutions, we will reach this dream in no time," Marcos said in his message, read by Trade Secretary Alfredo Pascual, during the Asian Regional Conference in Support of Accelerated Life Sciences Innovation in Mandaluyong City Monday.
The Philippines ranked 59th in the 2022 GII, a slip from the previous year's 51st. The country's highest GII ranking is at the 50th spot in 2020.
Marcos, who also chairs the National Innovation Council (NIC), said the launch of the National Innovation Agenda and Strategy Document 2023-2032 will guide the country in improving its performance in the GII.
He said the Department of Science and Technology's Balik Scientist Program, which encourages Filipino scientists overseas to return to the Philippines and share their knowledge, will also strengthen the country's push to use and commercialize technologies invented in the country.
"We intend to usher in a renaissance of innovation or 'Filipinnovation' that aims to find modern-day solutions to our modern-day problems, and make use of science and technology, especially research and development, in our pursuit of nation-building," the Chief Executive added.
Meanwhile, Intellectual Property Office of the Philippines (IPOPHL) Director General Rowel Barba told the Philippine News Agency that the agency's officials "are hoping for a substantial improvement" on the country's GII ranking this year.
He said the recently passed laws on innovation such as the Philippine Innovation Act, the Innovative Startup Act, and the Philippine Creative Industries Development Act will help raise the country's world ranking.
He said the Knowledge, Innovation, Science and Technology (KIST) Park in various higher education institutions nationwide will also boost the innovation ecosystem in the country.
"With those laws, I think they will help to improve the legal system and ecosystem for innovation, creativity with emphasis on our creative sector. And I think this is a big improvement compared to the previous GII," he added. (PNA)