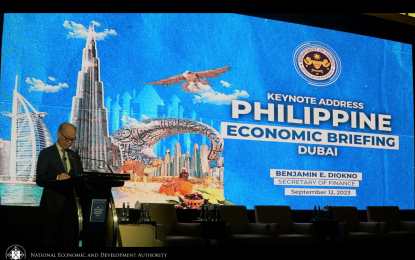 MANILA – The Philippine economic team on Tuesday urged entrepreneurs in the Middle East to explore investment opportunities in the Philippines, especially in infrastructure and clean energy.
"[There are] two areas where we need foreign investors, specifically, the Philippines being an archipelagic country, we need connectivity, right? Not only physical connectivity, but also digital connectivity," said Department of Finance (DOF) Secretary Benjamin Diokno during the Philippine Economic Briefing held in Dubai.
Diokno said the government also wants to have more foreign investments in the energy sector.
"The second area I think is energy, but clean energy because we want to transition from a dirty source of energy to cleaner energy and again, we need a lot of investment there and as I mentioned earlier, we have opened up that area, so you can invest in solar, wind, tidal, whatever. So those are critical," he said.
National Economic and Development Authority (NEDA) Secretary Arsenio Balisacan, for his part, encouraged potential investors to explore investment opportunities in infrastructure projects, especially in Mindanao.
"The Marcos Administration is committed to prioritizing infrastructure development in the Mindanao region – one of the country's most promising regions because of its significantly untapped potential for various growth drivers, particularly in agriculture and agro-processing," said Balisacan.
He said the government will prioritize projects that will significantly reduce the cost of connectivity and power in Mindanao, improve the region's resilience to shocks caused by climate change, and raise Mindanao's productivity as a growing agricultural and industrial hub.
Currently, there are 79 Infrastructure Flagship Projects (IFPs) worth USD45.9 billion in Mindanao, with nine projects being implemented through Public-Private Partnerships (PPPs).
Another area that Balisacan pointed out to investors is the energy sector.
He said that the Philippine Energy Plan 2020-2040 outlines how a more sustainable and resilient energy system will play a crucial role in driving the socio-economic transformation of the Philippines.
"The country will need foreign direct investments in renewable energy. To achieve our target mix for renewable energy, we will require a total investment of about 104 billion US dollars by 2040," he said.
Balisacan said the government would like to see foreign direct investments (FDIs) in sectors that will generate high-quality jobs.
He added that investors in mining, manufacturing, creative and services sectors, and tourism are also needed.
"The country has so much to offer for tourism, you just need more investments, hotels and other support services related to tourism," he said.
Islamic bonds
In a separate press briefing in Dubai, National Treasurer Rosalia de Leon said the Philippines plans to debut in the Islamic bond market with the issuance of sukuk bonds before the end of the year or early next year.
"Right now, I think our...is already complete in terms of the preparation for the issuance of our sukuk bonds," said De Leon.
According to de Leon, the government is now discussing with some of the potential underwriters in terms of the preparatory arrangements needed including the structure.
In terms of tenor size, de Leon said the government is looking at 5 to 10 years, adding that "this would also be something that would be catering to our small investors and at the same time also to the institutional investors."
"As for the timing, we've been told that there would have to be a 12-week preparatory lead time that would be needed so hopefully we can do this before the end of the year or if ever we'll have to slip to the first quarter of 2024," she said.
The Philippine Economic Briefing on Tuesday, in Dubai, UAE and several other investor meetings are part of the economic team's first non-deal roadshow and briefings in the Middle East. (PNA)