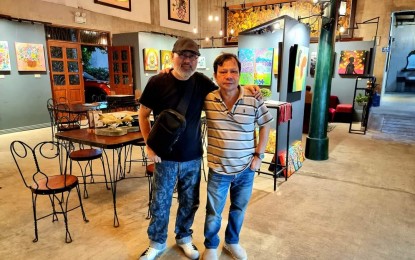 MANILA – As the country celebrates Philippine Creative Industries Month (PCIM), two local artists shared delight and fervor over the growing support for their profession, both from the government and private sectors.
Roland Rosacay and Chito Mendoza, also known as "J. Servando," had just been given the chance to hang their masterpieces on the walls of a famous classic restaurant at the heart of Amadeo, Cavite for a free art exhibit this month.
In an interview with the Philippine News Agency (PNA), Rosacay, 59, noted how important the government's assistance is in realizing its goal to make the Philippines the top creative economy in Southeast Asia by 2030.
He lauded the administration's effort to support the creative industries for the benefit of Filipino artists, including budding artists, by spearheading the PCIM.
The first-ever PCIM was launched on Sept. 3 through the efforts of the National Commission for Culture and the Arts (NCCA) and the Department of Trade and Industry (DTI).
The month-long celebration intends to showcase Filipinos' rich culture and creativity in both traditional and contemporary arts through exhibitions, workshops, competitions, discussions, and collaboration, among others.
Earlier, lawmakers expressed the need to increase fiscal support and promotion to the sector as it employs more than seven million Filipinos, contributing to the country's economic recovery, contributing around PHP1.6 trillion in gross domestic product (GDP) last 2022.
Proud of his collaboration with the government, Rosacay said his artworks are part of the "Recuerdo" art exhibit at the Philippine Heart Center, a government corporation organized and existing under and by virtue of Presidential Decree 673.
He has also participated in a book on the history of Philippine printmaking and published by the Cultural Center of the Philippines titled, "400 Years of Limbag Kamay ng Cultural Center of the Philippines."
Rosacay, who has participated in around 20 solo and over 300 group exhibits across the globe, said Filipino artworks are truly world-class.
"Kung mapapansin mo ang daming nilalabas na Asian magazines, puro Pilipino 'yung mga ano (ibinibida). Tapos tayo 'yung ini-invite sa Indonesia, Vietnam, tayo 'yung nagpupunta dun. Tayo 'yung sikat, mga Pilipino (If you will notice, there are plenty of Asian magazines being published, and Filipinos are mostly featured. Then we're invited to Indonesia and Vietnam, and we are the ones going there. We Filipinos are famous)," said the artist who had art stints in California and New York, U.S.A., as well as in Seoul, South Korea.
Besides painting, Rosacay also pours his creativity into making metallic sculptures mirroring human existence and hard work.
Meanwhile, Mendoza, 63, who began his painting stint only during the pandemic, also underscored the value of receiving support from the administration.
"Nasa arts and culture talaga 'yung identity natin. Pati 'yung tattoos, bakit buong mundo nag-uusap kay Whang-od? Art 'yan, diyan tayo kilala talaga (Our identity is in the arts and culture. Even in tattoos, why is the whole world talking about Whang-od [Oggay]? That's art, that's where we are known) So why neglect?" he told the PNA, referring to the 106-year-old iconic tattoo artist and mambabatok from Kalinga.
Mendoza stressed the importance of being given an equal and sustainable platform for art expression.
"Feasible or not, I will support it. Just have the conviction, 'yun lang damdamin (just the heart), doesn't matter if we are number one tayo or number two. Art is art, express. Live and let live," added Mendoza, who also enjoys photography and music, and doing missionary work.
Art approaches
The two artists both shared unique approaches in terms of working styles, which they described to be part of their identity within the Filipinos' rich art and culture.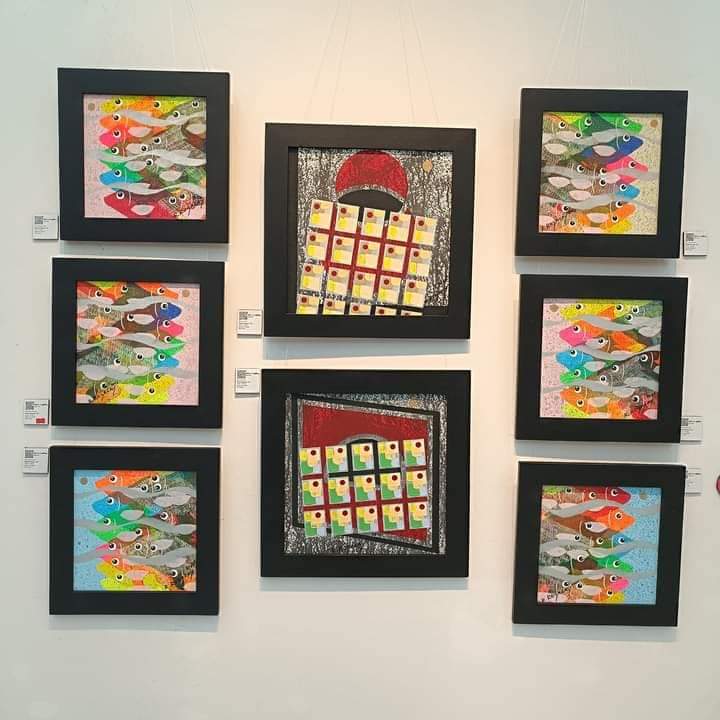 Rosacay, known for his iconic "school of fishes," said he uses a systematic form of painting.
"Kapag gumawa ako, hilera, I work systematic... hindi ako gumagawa ng isa-isa (When I paint, I line [the canvases] up, I work systematic. I don't do single-paintings)," he said.
"Let's say maglalagay ako ng black color or red, isang painting, lahat ng canvass lalagyan ko ng paintings, and then I'll be back on it hanggang matapos ko 'yung 60 colors, paulit-ulit (Let's say I'll put black or red color, one painting throughout all the canvass, and then I'll be back until I finish all the 60 colors)," Rosacay added.
He said he usually has a complete picture in his mind of what he is going to paint.
"As Pisces (zodiac sign), I'm painting fishes, so colorful. I'm bringing the colorful part of my heart. I'm expressing it to them," Rosacay said.
In contrast, Mendoza, meanwhile, said he has a completely different approach to his painting, highlighting the importance of originality and spontaneity.
"You start painting with nothing in mind, and then as you paint, your imagination progresses... I like that better, kasi hindi ako (I'm not a) technical person," he said.
Mendoza recalled exploring multiple creative fields without the help of anyone.
"I entered the photography business as an advertising photographer on my own, nobody taught me photography. I learned to play guitar and other musical instruments on my own. So since that's my pattern, when I explore the world of arts, I don't have any influence from other people," he said.
During the lockdown, Mendoza recalled trying abstract painting at first before shifting to scenery painting through "action painting."
"Ang problema sa ganun (The problem with that is) I can't repeat it. The emotion involved, the moment, the processes, hindi ko mauulit. Ang advantage naman sa bawat bumili, one of a kind 'yun (I can't repeat it. But the advantage with that is each buyer will have one of a kind canvass)," he added.
Motivation behind arts
Besides art approaches, Mendoza also said his motivations behind each output.
He said the major elements in his works are water and trees, which represent his environmental advocacy, and added that he hopes that his artwork would raise awareness about protecting nature.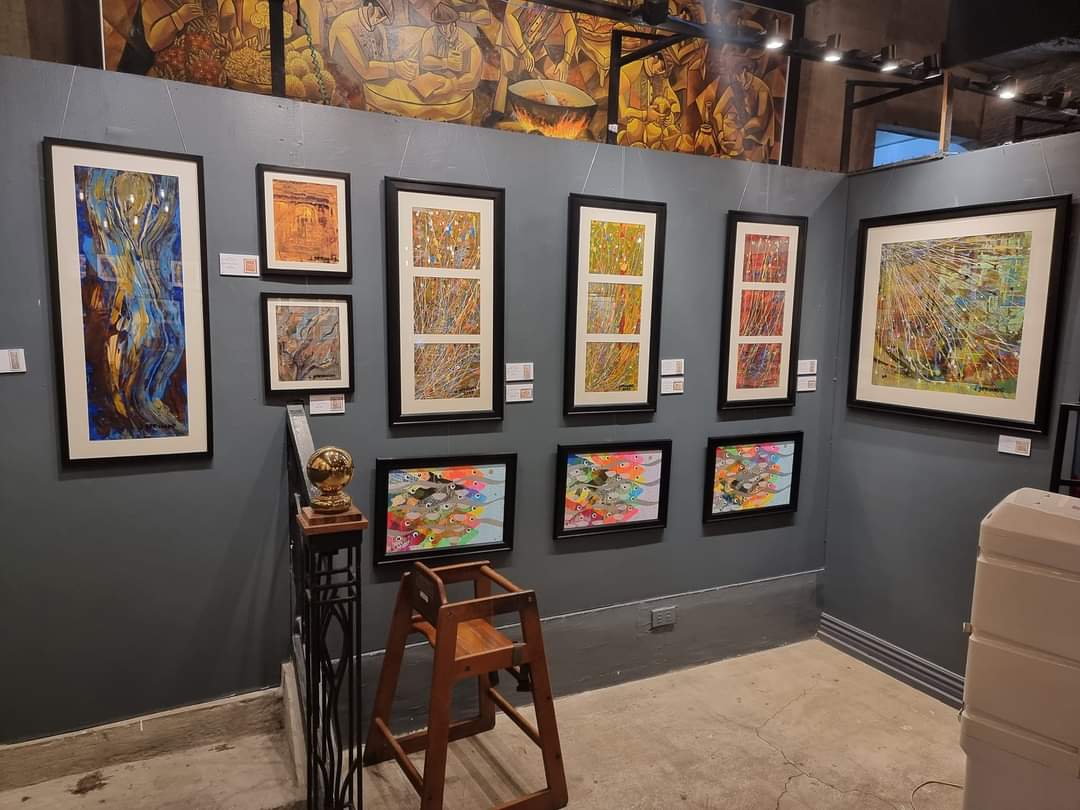 "Naniniwala ako na kahit magkaroon tayo ng progress (I believe that even if we attain progress) industrialization and all, just don't hurt the trees and the water, and we can still have a quality life," he said.
"Kapag 'yan ang ginalaw (If that will be harmed), we will all suffer, that's the two main elements of nature," Mendoza added.
Rosacay, meanwhile, said profit or income should not be the motivation to create art.
"Hindi naman kasi basta nakagawa ka ng art, bibenta ka na. Kailangan talagang magtagal ka sa industriya at may pangalan ka, hindi kagaad benta ang iniisip (It doesn't guarantee that once you created an art, you'll be able to sell. You need to stay for long in the industry, build a name, don't think of an immediate profit)," he said.
Rosacay said artists should think long-term, and determine whether to target local or international audiences.
"Mag-tiyaga sila, gumawa sila, 'yung pera sandali na lang 'yan kapag maayos na 'yung piyesa mo (Work hard, do more, the money will just come after if your piece is good)... More production, more money. Without production, no money," he said.
Last September 9, he participated in the Silab ArtReach's art therapy for persons with disabilities.
Meanwhile, Rosacay and Mendoza's artworks will be on display at the Ricardo's Coffee + Classic Cuisine restaurant in Amadeo, Cavite until Sept. 27. (PNA)