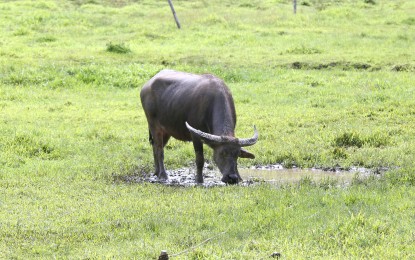 MANILA – The Department of Agriculture (DA) is revitalizing the cultivation of Philippine carabaos nationwide to help generate income in the countryside and to support the Marcos administration's dairy nutrition program.
In an interview on Thursday, DA Undersecretary Deogracias Victor Savellano said towards this goal, the department has begun distributing several "packages" to select farmers' cooperatives.
He explained that each "package" consists of 25 live carabaos (Bubalus bubalis carabanesis), which farmers' groups can raise and eventually use for milking.
"Raising carabaos on a commercial scale offers Filipino farmers fresh livelihood opportunities. It also makes it possible to locally produce the milk needed to supply the President's milk feeding program for children," Savellano pointed out.
It was noted that President Ferdinand R. Marcos, Jr. vowed during the last World Economic Forum in Davos, Switzerland, that his administration would invest more in food production initiatives, particularly to feed children belonging to society's most disadvantaged segment.
Savelllano said the DA's Philippine Carabao Center (PCC) has been tasked to lead the effort, by first repopulating the country's stagnant carabao population.
The PCC, he said, is now addressing genetics issues by further introducing a foreign breed of water buffalo, specifically, the Murrah buffalo, from the Indian subcontinent.
PCC Director Caro Salces, meanwhile, explained that the Indian buffalo species can easily be crossbred with local carabaos to produce a refreshed genetic stock that is better suited to support the dairy industry.
"Our native carabao is bred for work but they do not produce as much milk. On the other hand, the Murrah buffalo produces plenty of milk. By crossbreeding the two, we are able to produce animals that give out more milk while still remaining suited for working the fields," he said in Filipino.
Salces quoted recent surveys by the Philippine Statistics Authority (PSA) indicating that the country's carabao population ranges from 2.7 million to 2.9 million.
However, he estimated that only 30,000 to 50,000 of those animals are suited for commercial milk production.
Salces noted that in line with efforts to grow the local dairy sector, the PCC is currently constructing milk retort facilities in Bohol and Zamboanga, which are expected to be operational by January next year.
He explained that these facilities contain the technology to allow fresh carabao milk to be preserved in storage for up to one year, which is needed to support the dairy industry on a commercial scale.
The PCC is an attached agency of the DA, established in 1992. (PNA)