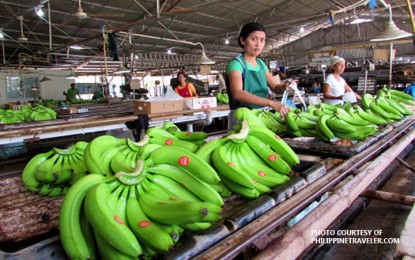 MANILA – The recently signed Philippines-Korea Free Trade Agreement (PH-KR FTA) is expected to address the declining share of banana exports.
The FTA will gradually reduce tariff for banana exports, with the rate at zero level within five years once the trade pact enters into force.
Pilipino Banana Growers and Exporters Association executive director Stephen Antig told the Philippine News Agency (PNA) on Friday that in less than a decade, the share of Philippine bananas in terms of value in the South Korean market declined to 72.6 percent last year from 95.6 percent in 2014.
"(O)ur share was eroded by the entry of bananas from other countries that are cheaper because of zero tariff," he said in an e-mail reply to PNA.
Bananas from Vietnam that are exported to Korea are slapped a 6 percent tariff but will be scrapped next year because of their bilateral trade pact that has been in effect since 2015.
Ecuador, Colombia and Peru also have free market access for their banana exports to South Korea, according to the Department of Trade and Industry (DTI).
"We need the lower tariffs compared to our competitors who have zero tariffs already versus the 30 percent tariff for Philippine bananas," Antig said.
"The FTA will level the banana playing field and make Philippine bananas more competitive in the world market. Hopefully with the FTA, the Philippines will be able to ship more bananas into Korea because it will now be cheaper and affordable to more consumers even if there is a cap on the volume. In effect, it is a breath of fresh air for the sagging industry," he added.
President Ferdinand R. Marcos said he looks forward to the expansion of the trade agreement.
"When I look at the involvement of Korea and the Philippines, I can say that the relationship between our two countries remains vibrant. And I think it is accelerating … I would like to take this opportunity to deepen further that relationship," he said after witnessing the signing on the sidelines of the 43rd Association of Southeast Asian Nations Summit in Jakarta, Indonesia on Sept. 7.
DTI Secretary Alfredo Pascual and Korea Trade Minister Ahn Duk Geun signed the PH-KR FTA in the presence of Marcos and President Yoon Suk Yeol.
Philippine Exporters Confederation president Sergio Ortiz-Luis, Jr. urged the local banana industry to invest more in order to increase their productivity and take advantage of the benefits from the PH-KR FTA.
"The local banana industry should push for joint ventures to expand their plantation and increase their production for them to meet the demand overseas," Ortiz-Luis told the PNA in a phone interview.
More Korean investments
Philippine Chamber of Commerce and Industry president George Barcelon told the PNA in another phone interview that the FTA will stimulate investments into the country.
"One of the areas I can see that will benefit is the car industry," Barcelon said, adding that Korean carmakers can now compete with Japanese car manufacturers due to the lowering of tariffs for automotive vehicles and auto parts imported from Korea.
Likewise, Philippine Economic Zone Authority Director (PEZA) General Tereso Panga said he is optimistic that there will be an influx of investments from South Korean firms once the Philippines-ROK FTA takes effect.
"We are seeing an increasing trend with more South Korean investments coming in the country. Last year, we have approved a total of PHP 1.019 billion investments from South Korean projects and for our performance this year, we already generated a total of PHP 1.413 billion investments from South Korea. We are looking forward to welcoming more investments from them, especially from industries unique to the country," he said in a statement Friday.
As of June 2023, there are 246 Korean firms registered with PEZA, with aggregate investments amounting to PHP92.19 billion.
These locators generated 40,688 jobs and USD736.45 million in exports across PEZA ecozones as of May this year.
Top Korean companies in PEZA include Samsung Electro-Mechanics Philippines Corp., Smart Electronics Manufacturing Service Philippines, Inc. Prima Tech Phils., Inc., Donggwang Clark Corp., IM Digital Phil., Inc., Littlefuse Phils., Inc., Hysonic Philippines, Inc., Daeduck Philippines, Inc., and THM Autoparts Philippines, Inc.
These firms invested in sectors of other transport equipment; motor vehicles, trailers and semi-trailers; radio, television and communication equipment and apparatus; business process outsourcing; electricity, gas, steam and hot water supply; textiles; leather, luggage, handbags and footwear; private education services; and manufacturing.
"With South Korea's status as the 10th largest GDP (gross domestic product) in the world and second most technologically advanced nation next to Germany, the Philippines stands to benefit from this FTA which opens more opportunities for investors, increased market access, FDI (foreign direct investment) inflows, higher value-added production, and export diversification combined with deeper economic cooperation and innovation partnership," the PEZA chief added. (PNA)