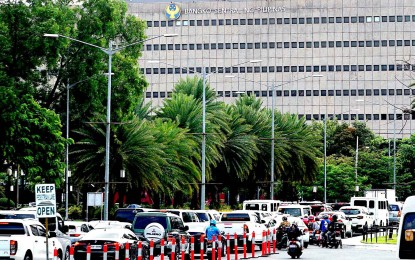 MANILA – The demand for the Bangko Sentral ng Pilipinas' (BSP) term deposit facility (TDF) surpassed monetary authorities' expectations and rates of both the seven-day and 14-day tenors fell.
In a statement Thursday, BSP Deputy Governor Francisco Dakila Jr. said total tenders in this week's TDF auction "was above the BSP's expected range and indicative of market participants' persistently strong demand for the facility."
The BSP lowered the offering for both tenors during the auction on Wednesday by PHP20 billion to PHP180 billion for the shorter-dated TDF, and to PHP120 billion for the longer-dated facility.
Both were fully awarded after bids for the one-week facility reached PHP263.423 billion while it amounted to PHP170.643 billion for the longer tenor.
The rate of both tenors fell, with that of the seven-day TDF to 6.4576 percent and the 14-day's to 6.4863 percent.
During the auction last Sept. 13, the average rate of the seven-day facility stood at 6.5191 percent while it was at 6.5227 percent for the 14-day tenor.
"Looking ahead, the BSP's monetary operations will continue to be guided by its assessment of prevailing liquidity conditions and market developments," Dakila added.
Rizal Commercial Banking Corporation (RCBC) chief economist Michael Ricafort, in a reply to questions from the Philippine News Agency (PNA), traced the high demand for the TDF to "excess liquidity in the financial system."
Ricafort said that since the TDF is among the BSP's main tools to siphon off excess liquidity from the system to better manage inflation and inflation expectations, the demand for the facility in this week's auction is high due to large volume of liquidity sloshing into the domestic economy.
He expects the domestic inflation rate to slow to within the government's 2 to 4 percent target band in the last quarter of this year or the first quarter of 2024 due to higher base effects.
This, he added, "could mathematically still lead to easing trend in inflation despite the recent higher prices of rice and oil/fuel."
"The ongoing but temporary price ceiling on regular and well-milled rice for more than two weeks already or since September 5, 2023 would help stabilize rice prices and overall inflation," Ricafort said.
Last August, the domestic rate of price increases ended its six-month slide after it accelerated to 5.3 percent from 4.7 percent in the previous month due to upticks in food prices, among others.
The average inflation in the first eight months this year stood at 6.6 percent. (PNA)