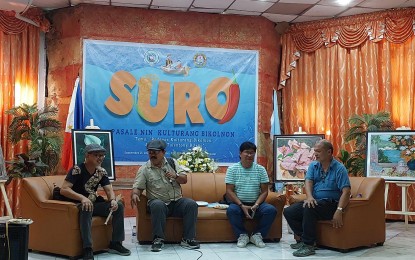 LEGAZPI CITY – In an age where artificial intelligence is ushering in a new era of artistic expression driven by algorithms and data, four local artists are out to prove that art is still an entirely human pursuit—bringing the arts and culture conversation to the foreground by redefining what it means to be a Bicolano artist.
'FPJ's' brand of "artivism"
For Frank Peñones Jr., commonly referred to as "FPJ" within his art circle, using the Bikol language in his extensive body of work in the fields of poetry, film, and visual arts is a way to preserve the region's cultural heritage and a means to advocate for equal representation in the literary world.
"Reclaiming and affirming my identity as a Bikol artist is an identity politics issue," he said.
Hailed as one of the forerunners of the current dynamism in Bikol literature, his active involvement dates back to the 1980s, when he organized various writing workshops for Bicolano artists.
For Peñones, the pen can both be a tool to empower and oppress.
Highlighting the importance of language to combat the threat of marginalization, as Bicol remains on the periphery when it comes to economic progress, he revealed that it was a Jesuit high school teacher at Ateneo de Naga, who was Irish-American but who could speak Bikol so well, who sowed the seeds of love for his native language.
These seeds further took root over the years when he started publishing Bikol poems, one of which is "Opon sa Ibalon: Pagcahale kan Mascara," which was published in a local magazine.
Little did he know that this poem would be the start of his literary journey, as this would be the impetus for him to write in Bikol after securing a writer's grant at the Cultural Center of the Philippines.
Today, "FPJ" has authored a plethora of literary masterpieces, some of which are "Rinaranga" (Beloved Land), "An Poon kan Pili (Ina nin Bikol Foundation), "Sinaraysay: Halo-halong Blog nin Buhay (with Rizaldy Manrique and Judith Balares-Salamat), and Hagong: An Anthology of Contemporary Bikol Fiction (co-edited with Paz Verdades Santos), which won the National Book Award in 2013.
His face has also graced a number of indie films like Gayuma (2011), Posporo (2013), Debosyon (2013), Angustia (2013), Ang Kubo sa Kawayanan (2015), (Pa)duman: To Someplace (2015), and Sayaw sa Butal (2016).
With his brand of "artivism", Peñones is able to make use of his creative expression to raise awareness and advocate for social change in a region in need of local heroes in the literary field.
A dynamic duo's musical legacy
Meet Bicol's version of Simon & Garfunkel: Francisco "Keeks" Mitra and Noel "Nong" Muñoz.
Like their international counterparts, whose timeless songs continue to resonate today, the enthralling melodies and poetic lyrics of Mitra and Muṅoz songs have the power to awaken and rekindle a strong love for the Bicol region.
Both were musical geniuses at an early age; Mitra started making gentle guitar melodies back in elementary school, while the latter was already a fixture in singing contests in grade school. They met each other when they were kids, but it would take more than three decades and an unlikely tragedy for them to collaborate.
Muñoz said that it was a long bus trip that got him into his advocacy for mainstreaming Bikol songs.
"Ang nakainspire sakin magibo Bikol na kanta ay idtong pagduman ko sa Bisaya...na sa bus, pigatugtog ninda an Bisaya (Visayan) songs. Sabi ko, kaipuhan mangyari man yan sato (What inspired me to write Bikol songs was when I was on my way to Visayas, and while on the bus, they would play Visayan songs. I said we needed to have this, too)," he said.
Mitra, who admitted that he started out as a folk singer in his heydays, said it was the lack of variety in the local music scene that prompted him to compose Bikol songs.
Looking back, both recalled that it was in the aftermath of the Mayon volcanic eruption in 1992 that they realized they needed to tell the Bicolanos' story through songs. And what better way to do this than to perform in evacuation centers to provide entertainment to distressed Bicolanos?
In 1995, along with two other members of their band, "Ilaw," they recorded the iconic "Bikolano Ka, Bikolano Ako" album featuring six Bikol songs.
More than a decade later, the duo would again make music together in the hauntingly poignant song "Nonoy, Nene," which talks about one's love for family, with Mitra taking care of the lyrics and Muñoz doing the arrangement. The song ultimately bagged first place in the local singing tilt, the Magayon Song Competition, in 2008. Other notable works by the duo include "Ini an Kabikolan."
Mitra would eventually be hailed as the Outstanding Albayano for Music by the provincial government of Albay in 2016.
In a world dominated by Western music, their songs prove that there is space for Bicolano artists in the industry.
The hyphenated Bicolano artist
Felipe "Ping" Peralta has worn many hats over the course of his illustrious career that straddles both journalism and the arts.
A household name in the visual arts scene, having mounted numerous photo exhibits and painting exhibitions in the region and beyond, it is hard to believe that his artistic journey was launched by a box of crayons.
"Kan aki pa ako, pig bakalan akong Crayola kan Tita kong titser. Su lanob kan balkon mi pig para drawing-an ko ki maski ano-ano. Dai pa ako nag eskwela, grabe na su mga doodles na nagibo. Pig album kan Tita ko su mga gibo ko (When I was little, my aunt, who was a teacher, bought a box of crayons for me. I drew just about anything on the walls of our balcony. I had yet to enter school, but I had created so many doodles. My aunt collected these and compiled them into an album)," Peralta said.
This simple genuine appreciation would blaze the trail for Peralta's artistic expression.
Over the years, he has built a name for himself in the fields of visual arts and journalism.
As an active member of the Bicol Artists Guild, he has mentored budding artists in the region while also establishing himself as an expert in the fields of photography, editorial cartooning, video production and film direction.
His most notable works include a one-man photo exhibit held at the Hotel Nikko Manila Garden in Makati City in 1995 that showcased the various natural tourism destinations in the Bicol region.
In 1996, his photographs landed in the UNICEF traveling photo exhibition in Asia. He is also credited with creating the famous logo of the Ibalong festival, the annual non-religious festival celebrated in Albay.
Guardians of Bicol's cultural heritage
Now in their senior years, these four Bicolano artists—FPJ, the dynamic duo Mitra and Muṅoz, and Peralta—continue to be a constant fixture in the local art scene, inspiring the younger generation to take pride in their culture through artistic expression.
They are the embodiment of how art can make a difference, one verse, one note, and one stroke at a time. (PNA)