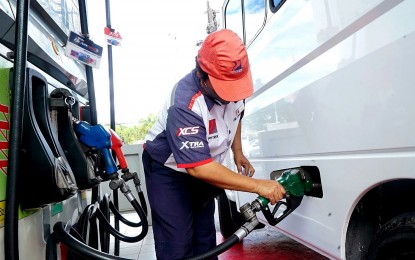 MANILA – Both the private and public sectors should be willing to make temporary sacrifices to cushion the continuing increases in domestic prices of petroleum, according to leaders in business, labor and the academe.
This came as a reaction to House Speaker Martin Romualdez's appeal for local oil firms to cut down on their profit margins to make fuel more affordable to consumers amid soaring world crude prices.
In an interview on Friday, Jesus Arranza, chairman of the Federation of Philippine Industries (FPI), said it may be possible for local oil companies to sacrifice some of their profits but ultimately, they are still powerless against the whims of the Organization of Petroleum Exporting Countries (OPEC).
"Perhaps they (local oil firms) can reduce their profits to a bare minimum for a short period. But prices (of petroleum products) will still remain high because OPEC is forcing prices higher through production cuts. OPEC is the biggest international business cartel and they are restricting oil supply at the expense of the entire world," he said.
Arranza said the Philippine government could also explore the possibility of reducing excise taxes it levies on petroleum products on a provisional basis to help consumers absorb the blow of rising pump prices.
He proposed that the government either lower the tax rate on oil, or charge only a standardized tax rate that does not increase proportionately with oil prices.
"We are not saying that this should be permanent, because nothing is permanent. We just have to adjust to the situation we are in today… when oil prices in the international market are too high," he added.
For his part, Roberto Galang Jr., dean at the Ateneo de Manila's John Gokongwei School of Management (JGSoM), said even if oil companies are willing to reduce profits, the effect will be very short term.
He said any future increase in global oil prices will generate a subsequent price increase.
Galang said economic managers should evaluate the feasibility of temporarily repealing, or at least, reducing excise taxes and value-added taxes (VAT) on petroleum products.
"But the best option is to use the increasing tariff collections to subsidize public transport. Also to revive bike lanes so people stop using gasoline based transport. The bike lanes are now overrun by cars," he added.
Support for call for gas companies to moderate profits
The Trade Union Center of the Philippines (TUCP) fully supports Romualdez' call for oil companies to share in the burden by cutting down their profit margins to ensure affordable fuel pump prices.

As of Sept. 18, oil companies implemented the 11th consecutive week of price increases following the rising global oil prices, thus, lawmakers stand to recommend to the President the possible suspension of oil excise tax and the value-added tax.
"It is not only our Public Utility Vehicles (PUV) drivers and motorists who are taking the hit from these series of price hikes, but all Filipino families because when gas prices go up, it will have a second-round knock-down effect on almost all basic goods and services," Luis Corral, TUCP vice-president, said in a statement on Friday.

"Unless we stop these price hikes, it will continue to have a crushing impact on already-eroded wages of workers due to surging food and electricity inflation, among many other global and domestic headwinds," he added.

Corral said TUCP have long urged all social partners, both in the government and the private sector, to share in the sacrifice because workers have long suffered, especially during the pandemic, in struggling to provide a decent life to their families despite too high prices compared to their low wages.

"We laud the Speaker for his crisis leadership and for being at the forefront in our clarion call for capitalists to moderate their greed so that the lives of working families can be more bearable," he added. (With reports from Zaldy de Layola/PNA)