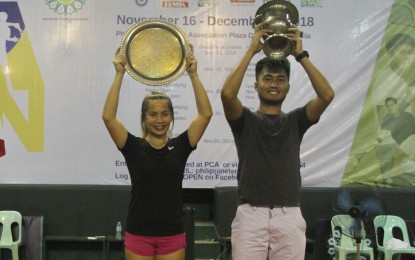 MANILA – Sixth seed Jeson Patrombon stunned top seed John Bryan Otico, 7-6 (4), 0-6, 4-6, 6-1, 6-1, to clinch the men's singles title in the 37th Philippine Columbian Association (PCA) Open Tennis Championships on Sunday at the PCA indoor shell court in Plaza Dilao, Paco.
"It feels great to win my first PCA Open title. I am very happy," said the 25-year-old Patrombon, who needed three hours and 40 minutes to wrap up the match. He received PHP150,000 while Otico got PHP75,000.
The PCA Open title is the seventh singles title for the Iligan City-born Patrombon, who improved his head-to-head record against Otico to 4-1.
Patrombon has represented the country in the 2017 Southeast Asian Games in Malaysia and the 2018 Asian Games in Indonesia.
"He has a solid baseline and has a heavy topspin," said the 19-year-old Otico describing his opponent. "I'll be back next year."
In the women's division, Marian Capadocia lived up to her billing as the country's No. 1 player after defending her title against Ateneo de Manila's Shaira Hope Rivera.
Capadocia, a member of the Arellano University tennis team, scored a 6-4, 6-3 win over Rivera to collect her sixth title in the country's biggest and longest-running tournament.
"I am happy to win again," said the 23-year-old Capadocia, who received the top prize worth PHP75,000. She won the title from 2011 to 2014,
"Shaira is also a good player and I am happy to face her in the final," said Capadocia, who is now 5-0 against Rivera.
On her way to the final, Capadocia beat Gaby Sandejas (first round); Jenaila Rose Prulla (second round); fifth seed Cristine Patrimonio (quarterfinal); and third seed Khim Iglupas (semifinal).
Capadocia now holds the most number of singles title in the PCA Open. Czarina Mae Arevalo has five titles (2002, 2003, 2005, 2007 and 2009) while Jennifer Saret has four (1989, 1990, 1991 and 1992).
Capadocia, who was born and raised in San Jose, Antique, said she is scheduled to leave for the United States in January next year.
"I got an athletic scholarship in one of the schools in the United States. Hopefully, I can come back to play in the PCA Open again," said Capadocia, a third-year student taking up BS Education major in sports management and wellness at the Arellano University.
Capadocia has been with the national team since 2011. She played in the Junior Fed Cup (2011 and 2010) and the Fed Cup (2012, 2013, 2014 and 2018).
Rivera, who settled for the PHP35,000 runner-up purse, said she is glad to have made it to the championship round. She was eliminated by Clarice Patrimonio in the semifinal round last year.
This year, Rivera managed to beat Patrimonio, 7-6 (3), 6-1, in the Final Four. She also beat Jed Valle Rayne Aquino (first round); Jana Pages (second round); and sixth seed Marianne Hillary "Akiko" de Guzman (quarterfinal).
"I did my best, but I was up against a strong opponent. She's the defending champion," said the 19-year-old Rivera, who hails from Monkayo, Compostela Valley.
In the men's doubles category, top seeds Francis Casey Alcantara and Jose Antonio Tria won the title over second seeds Johnny Arcilla and Ronald Joven, 7-6 (4), 5-7, 10-8.
The 16-year-old Tria of Colegio de San Agustin became the youngest doubles winner in the history of the PCA Open. The son of movie actress Cherry Pie Picache is currently No. 572 in the world juniors' rankings.
Fourth seeds Bambi Zoleta and Aileen Rogan took the women's doubles title and after posting a 2-6, 6-4, 10-8 win over top seeds Cristine and Clarice Patrimonio.
In the juniors' division, unseeded Vince EJ Tugade stunned No. 1 Aljohn Talatayod, 6-3, 6-1, to win the boys' 18-under title. Tugade also won the doubles title with Ibarra Ortega. They beat Jhufel Alvarez and John Gualberto by walkover.
The boys' 16-under title went to top seed Axl Lajon Gonzaga, who scored a 6-4, 6-3 victory over seventh seed Manolo Angara.
In the boys' 14-under category, top seed Marc Andrei Jarata downed unseeded Jagat Sachedeva, 6-2, 6-3, to clinch the singles title. Jarata and Gonzaga won the 14-under doubles title over Rafael Liangco, 8-2.
In the boys' 12-under category, seventh seed Sherwin Nuguit outplayed sixth seed Gerald Gemida, 6-1, 4-6, 6-3, to capture the singles title.
In the 10-under unisex category, top seed Kean Sebastian Enriquez won the singles title over second seed Kriz Roque Lim, 2-4, 4-1, 4-2, while top seeds Basti Enriquez and Gavin Kraut bagged the doubles title over Prince Lim and Kriz Lim, 8-6.
In the girls' 18-under singles final, third seed Macie Carlos prevailed over fourth seed Patricia Lim, 6-2, 6-3, to pocket the title.
In other results, seventh seed Justine Hannah Maneja won the girls' 16-under title over second seed Althe Fay Ong, 1-0 (ret); fifth seed Jenaila Rose Prulla pulled off a 6-1, 6-0 upset win over third seed Marielle Alexi Jarata to win the girls' 14-under title; and unseeded Mika Ella Emana claimed the girls' 12-under title after posting a 6-4, 6-2 victory over Angeline Alcala.
Emana siblings Mika Ella and Kaye Ann downed Dana Abad and Jennifer Pagente, 8-3, to win the 18-under doubles title, while Angeline Alcala and Maxine Jarata won the 14-under doubles title over Melody Dizon and Rovrl Revino, 8-1.
Meanwhile, the PCA Bob's Aces led by team captain Grace Woo won the ladies team Class B title over the Cindy Patrimonio-led PYOOR EGR.
In the men's 40 years old and above doubles category, Antonio Quiza and Expedito Lim Jr. defeated Edu Manzano and Darwin Perez in the final, 6-3, 6-1. In the men's 55-years old and above double category, Tres Banez and Ernie Dino beat Aguel Buday and Bobby Nieva, 3-6, 6-2, 10-6.
PCA president Philip Ycasiano, Philippine Tennis Association (Philta) president Atty. Antonio Cablitas, PCA Open chairman Martin Misa and Asia Traders Corp. vice president Christopher Tan awarded the trophies to the all the winners.
"To all the participants, you continue to make the PCA Open the most prestigious tournament in the country," said Ycasiano in a speech during the awarding ceremony. (PNA)