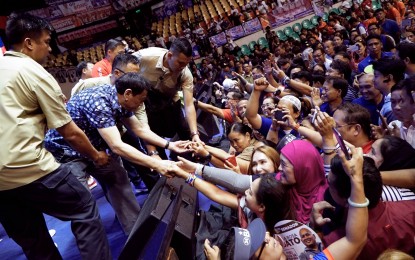 DAVAO CITY – President Rodrigo R. Duterte sees the success of pro-administration senatorial candidates in the elections as an indication of the people's support to his leadership.
This was the President's answer when interviewed by reporters at the Daniel Aguinaldo National High School, where he cast his vote, if this year's polls is taken as one referendum for his administration.
"It could be. It could be taken as one referendum. So that if you agree with me, then you can vote for my candidates or the people I am supporting this election," Duterte said.
On the other hand, Duterte said their loss would mean the people do not like him.
"Now if I am repudiated by the loss of all candidates coming from the Hugpong slate, then that would indicate that the majority of the people ayaw nila ako. Madali lang 'yan (they don't like me. That's easy). Easy to solve," he added.
As of 4:50 a.m. Tuesday, partial and unofficial results of the senatorial race show that most of the president's allies are on the top 12, including his former aide Christopher "Bong" Go who is on third spot with 19,510,897 votes, and former Philippine National Police chief Ronald "Bato" dela Rosa on fifth spot with 17,941,303.
When asked if he has expectations on the results of the election, Duterte said he always places election outcomes at 50/50 chances.
"Ever since I have been in politics, it's always at the start of the election campaign, I would always place it at 50/50. Maski na malakas ako sa survey, maski wala akong kalaban, it is always a 50/50 proposition (Even if I am strong in surveys, even if I have no opponent, it is always a 50/50 proposition). Because if I do not have opponents, then I am supporting a group of people who will help me run the city government," he said.
The President also said he is willing to step down if the media calls for it, but would never "bow down to any foreigner".
"I will step down. But only accredited, legitimate, tax-paying, (media)," he said, an apparent swipe at online news site Rappler which is allegedly foreign-funded.
"I can stomach a tricycle driver shouting sloganeerings at me. I will never bow down to any foreigner," he said. (PNA)