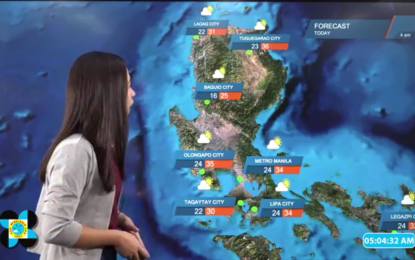 MANILA -- The public can expect faster weather forecasting as the Department of Science and Technology (DOST) eyes launching the ULAT (Understanding Lightning and Thunderstorm) research project this year.
DOST Secretary Fortunato dela Peña said this is the only research in the country that is involved in lightning.
How can lightning make weather forecasting faster?
In an email correspondence with the Philippine News Agency (PNA), Alvin Retamar, chief of DOST-Advanced Science and Technology Institute's Solutions and Services Engineering Division, explained that lightning occurrences would be monitored to find out its relation to the weather forecast for the next hours or days.
"According to experts on study on lightning, there are evidences showing that lightning data collected could be used for a more accurate weather forecast for the next days.
"This would give the public additional information, and warning about the strength, direction and other pertinent details related to a rain event," he said.
ULAT would use computer systems that would run models and machine learning algorithms to automatically process data from ULAT data sensors, with a goal of giving the right information at the right time, Retamar added.
"ULAT has something to do with detecting low radio frequency related to lightning strikes, even far lightning strikes. This has a correlation with possible rainfall," he said.
According to Retamar, the Japan International Cooperation Agency (JICA) funded the development of a Ground Receiving Station in Dumangas Climate Field School in Iloilo, to receive satellite data from Filipino-made Diwata-1 and Diwata-2 microsatellites.
Data from these microsatellites will be used to a "3D Cloud Reconstruction" that would help in studying thunderclouds and the rains brought by these thunderclouds.
For this project which Retamar said started in April 2019, some PHP53 million came from JICA for lightning detection stations, satellite ground station, weather observation operations, and other equipment.
The DOST, meanwhile, allotted PHP32 million for the construction of Dumangas Ground Receiving Station's server room, surveys, and deployment of instruments, research activities, and for hiring of engineers and research and development personnel.
Retamar said other countries have been studying lightning activity and have been using lightning data in their weather forecasts.
In the Philippines, he said, Filipino researchers are studying this together with experts from Japan.
"There are companies selling lightning data using lighning data they gathered from their own lightning sensing system. Before ULAT, we were looking at the possibility of buying lightning sensors and install these locally. Because of the ULAT project, we had the chance to deploy dense network of lightning sensors in Metro Manila and nearby areas," he said.
Without ULAT, Retamar said the state weather bureau is using satellite, synoptic observation data, automated weather data, historical data, doppler data and other modern instruments in forecasting.
"They (forecasters) combine these data to provide accurate weather forecast to the public. ULAT will serve as a complementary system to these data," Retamar remarked.
Faster forecasting, Retamar said ULAT could enable shorter and faster forecasting because of the data to be collected from the lightning detection stations in Metro Manila and nearby areas.
He, however, could not give an estimated time or period of a "faster" forecasting.
"The speed in forecast is still part of the research that Filipino researchers are looking at together with experts from Japan. We also expect that the high- performance computing and machine learning algorithms would help speed up forecasts," he said.
"The lightning detection stations can detect lightning occurrences thousands of kilometers away. If for example, there is a lightning activity detected in the direction of the pacific, it is a sign that there is weather disturbance in the pacific. (Forecasters) could immediately inform the public of the weather forecast for the coming hours or days," Retamar added.
He continued that ULAT could be used for localized thunderstorms developing.
"Based on studies, lightning and thunderstorm occur in between two hours. Therefore, if we could detect a number of lightning strikes, thunderstorms may likely happen in two hours. Lightning would serve as an early warning for the possibility of the development of a thunderstorm, " he said.
Retamar, meanwhile, said that the Philippine Atmopsheric, Geophysical and Astronomical Services Administration (PAGASA) is also part of the project.
The lightning detection stations were placed in PAGASA's synoptic stations.
All the instruments from JICA will be transferred to PAGASA once the ULAT project is finished, he said. (PNA)