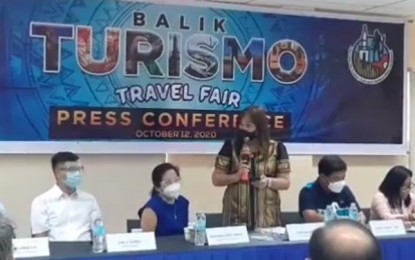 LAPU-LAPU CITY, Cebu – The city government here launched on Monday a travel fair aimed at helping the tourism industry bounce back from losses due to the coronavirus disease 2019 (Covid-19).
The Balik Turismo Travel Fair is happening this Oct. 17 from 1 p.m. to 5 p.m. at the Hoops Dome in Barangay Gun-ob, where the city's top hotels and resorts, and other tourism-related establishments offer discounts on room stays, food, and other leisure offerings.
At the press launch of the travel fair Monday, Mayor Junard "Ahong" Chan said the city had been preparing for the reopening of the tourism business with the hope of regaining the jobs lost due to the Covid-19 crisis.
He said the public may take advantage of the great promos and sale prices offered by Lapu-Lapu's premier hotels and resorts during the one-day travel fair.
He said the city's "Balik Turismo" program is geared towards helping the thousands of displaced workers back to the tourism industry.
The travel restrictions and community quarantine measures have greatly affected the tourism industry here, plunging domestic and foreign visitor arrivals.
Chan said part of the preparations made by the city government was the series of inspections in the city's major hotels and resorts to ensure their compliance with the mandated safety and health protocols.
The mayor said the Balik Turismo Task Force was also created to ensure the safe transition of the city from general community quarantine (GCQ) to modified GCQ as it reopens tourism activities.
Chan said the swab testing done on boat operators is among the steps taken to prepare the city for the tourism revival.
The city's Tourism, Cultural and Historical Affairs Commission (TCHAC) has launched a teaser video showing the city's famous tourist spots.
In recent days, Lapu-Lapu City has not recorded any new cases of the coronavirus disease 2019.
Department of Health (DOH) chief pathologist Mary Jean Loreche in a press briefing on Monday reminded that Lapu-Lapu City should limit the capacity of tourists to be absorbed in the island-city, saying that "Covid-19 is still there".
She said the city should also not accept tourists who are below 21 and above 60, the ages covered under the 24-hour curfew.
"Their guidelines in reopening the tourism sector should be in synch with the IATF rules," she said, referring to the Inter-Agency Task Force for the Management of Emerging Infectious Diseases.
Meanwhile, Chan reiterated that the strict implementation of minimum health standards will remain as weapons in fighting the pandemic.
Officials from TCHAC, Hotel, Resort and Restaurant Association of Cebu, and the Department of Tourism in Central Visayas were present during the launch of the travel fair. (PNA)