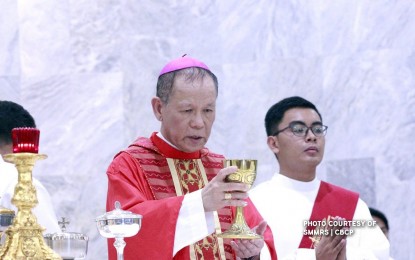 MANILA – The bestowal of the Cardinal's insignia and "red hat" to incoming Manila Archbishop Jose Cardinal Advincula has been reset to June 18.
Advincula, in an interview with Church-run Radio Veritas on Wednesday, said the date was approved after consultation with health experts.
"We're hoping that the new schedule of the bestowal of insignia will push through (despite) the (increase) in the number of new Covid-19 cases in Capiz," he said.
The ceremony will start at 3:30 p.m., to be held at Immaculate Conception Metropolitan Cathedral in Roxas City.
Apostolic Nuncio to the Philippines Archbishop Charles John Brown will be leading the event and will also bestow the Cardinal's ring to the Advincula.
The 69-year-old Cardinal will be officially installed as the 33rd archbishop of Manila in a ceremony at the Manila Cathedral on June 24.
The event will be livestreamed through the different social media platforms of the Archdiocese of Manila namely, the Archdiocesan Office on Communications, TV Maria, Radio Veritas, 500 Years of Christianity Archdiocese of Manila, and The Manila Cathedral.
Over the weekend, the Archdiocese of Capiz announced that the bestowal of the Cardinal's insignia to Advincula which was earlier reset to June 8 has been canceled, upon the recommendation of health experts.
This is the second time the event has been rescheduled after it was originally set on May 28. (PNA)