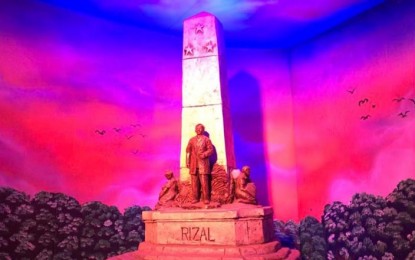 ZAMBOANGA CITY – Along with the easing of coronavirus disease 2019 restrictions, the revival of the tourism industry of Dapitan City, known as the shrine city of the Philippines, is getting a boost with the launching of the "Lakbay Pinas" project on December 1.
The Lakbay Pinas, a project that is among the numerous attractions of the Glorious Fantasyland Theme Park (GFTP) in Dapitan, is a mini-museum that features iconic tourism destinations in the country.
"Lakbay Pinas is an offering of Glorious Fantasyland as the strongest private stakeholder partner of the city government of Dapitan to compliment the Rizal Shrine," Apple Marie Agolong, Dapitan tourism officer, said in a statement Monday.
"Lakbay Pinas will complement the visit of tourists who want to immerse themselves in the culture, history, and tradition of the city," Agolong added.
She said that the launching of Lakbay Pinas will be held on December 1 simultaneously with the switch-on of Christmas decorations of the city.
The Lakbay Pinas highlights five zones of breathtaking views of larger-than-life historical spots, wildlife's natural wonders, cultural festivals, and heritage sites, among others.
"It's a seven-minute ride wherein visitors and tourists will not just be entertained but will have a glimpse of the different traditions, beliefs, historical and touristic destinations all around the country," Agolong said.
Arconil Jose Jalosjos, the GFTP general manager, said in a separate statement Monday that they envision the Lakbay Pinas as a new activity that young people and families alike will enjoy since it is a first of its kind project in the country.
"It is an inclusive showcase of Filipino traditions and rich colorful heritage," Jalosjos said.
The Lakbay Pinas is aimed at benefitting the community and reviving the tourism industry of Dapitan City.
"Dapitan tourism is seeing its light on this pandemic as it moves forward for the recovery of the tourism industry," Agolong said. (PNA)