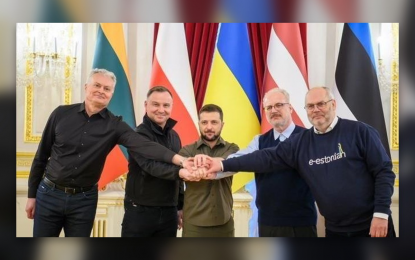 KYIV, Ukraine – Ukrainian President Volodymyr Zelensky on Wednesday met with his Polish, Lithuanian, Latvian and Estonian counterparts in the capital Kyiv.
After the meeting, Zelensky held a joint press conference with Poland's Andrzej Duda, Lithuania's Gitanas Nauseda, Latvia's Egils Levits and Estonia's Alar Karis.
"I would like to thank these great leaders of these great countries who are always with us, always on the side of Ukraine," Zelenskyy said.
"Shoulder to shoulder and from the very beginning they were among the first to support Ukraine's vision of the European Union, including a strong policy of sanctions against Russia and its aggression. These four leaders are always defending us," he added.
He said the four countries were among the first to provide arms support to Ukraine.
"I am confident that these four countries will be the first in all the pages of Ukraine's future, and we have a great future, because with such partners and friends we will definitely win. Thank you each and every one of you for this important visit at this difficult time for Ukraine," he added.
At least 1,932 civilians have been killed and 2,589 injured in Ukraine since the start of the war, according to UN estimates, with the true figure feared to be much higher.
More than 4.6 million Ukrainians have fled to other countries, with over 7 million more internally displaced, said the UN refugee agency. (Anadolu)