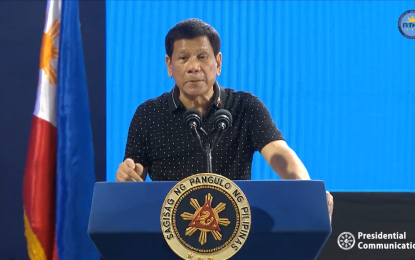 MANILA – President Rodrigo R. Duterte said Tuesday he is avoiding taking an adversarial approach to the Russia-Ukraine crisis because such a move would only put the country in peril.
During the campaign rally of his ruling party, the Partido Demokratiko Pilipino - Lakas ng Bayan (PDP-Laban) in Cainta, Rizal, Duterte said he prefers a "friendly" approach because there is a possibility that the Philippines might be targeted, in case the Russia-Ukraine war escalates into a nuclear war.
"Kapag lumaki ang giyera between Russia and Ukraine, 'pag sumabog ito, naging nuclear, medyo delikado na tayo. Tayo. 'Pag nagputok isang... Alam mo tatamaan talaga tayo. Kaya sinabi ko na noon bakit ako nakipagkaibigan (If the war between Russia and Ukraine escalates into a nuclear war, we are in danger. We will be hit. That's why I'm being friendly)," he said.
Duterte warned that the Philippines, along with Taiwan, could be "hit," in the event China gives military support to Russia amid the latter's invasion of Ukraine.
He said it would likely happen as troops of the United States (US) are using Philippine bases and facilities.
"Kung may giyera, tatamaan talaga tayo because nandito ang Amerikano at marami silang armas na nandito (In case of war, we will be a target because of the presence of Americans and their weapons here)," Duterte said.
The US has provided Ukraine armaments, including drones, anti-tank and anti-air munitions, and heavy artillery to fight Russia.
The President said the Philippines could not afford to be hostile because it does not have enough weapons to fight.
"Sabihin ko kay Xi Jinping, brod, wala naman tayong away. Ako, nakikipag-negotiate sa inyo. Hindi kasi panahon ng tapang-tapangan ngayon. Kapag mag-tapang-tapangan ka, ang masalubong mo, bomba, wala tayo niyan (I will tell [Chinese President] XI Jinping, brod, we do not have a quarrel. I'm negotiating with you. It's not time to be adversarial because we will be met with bombs. We do not have that)," he said.
Duterte said he is just making a warning since the Russia-Ukraine crisis would continue even after he steps down from office in June.
"Ang ating armaments (Our armaments are) good only for the insurgency problem in keeping the integrity of the Filipino land. Wala tayong panglabas. Kaya kung magkandaleche-leche ito, pag sumali ang China (We could not fight outside of the country. If the situation gets out of hand and China joins in), they would probably hit Taiwan and (the) Philippines. Sigurado iyan. Sigurado ako (That's for sure. I'm sure of it)," he said.
In April, Duterte and Xi expressed deep concern over the Russia-Ukraine conflict, hoping that the two countries would seek a peaceful settlement.
Thousands have reportedly been killed and more than 10 million have fled to neighboring countries since Russia launched a war on Ukraine on February 24. (PNA)